Mold can quickly become a major problem in homes and buildings as it causes discoloration, structural damage, musty odors, and health reactions from exposure such as allergies and infection.  The spores only need a moisture source and an organic food source to grow, making it much more likely after sustaining water damage, and it can spread quickly to cause extensive structural damage.
ServiceMaster Restoration Services provides mold remediation services in Omaha, NE to remove mold growth from homes and business and restore the resulting damage.  We have advanced inspection capabilities that allow us to locate all mold growth and we will prevent the mold from spreading beyond the affected area when working.
What are the Financial Costs of Mold Cleanup – Check Out Our Video
For professional mold remediation services in the Omaha, NE area, contact ServiceMaster Restoration Services at (402) 973-3858.
Mold Damage Cleanup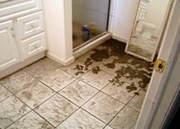 When mold appears in your home or building, it will continue spreading until it is removed which makes it important to call for mold remediation as soon as possible.  The technicians of ServiceMaster Restoration Services can effectively locate mold and identify its causes to not only eliminate the mold growth from your home, but also prevent the mold from returning.
With assistance from nationally recognized testing facilities, we can test for mold to find hidden growth and provide lab analysis that helps us create an effective mold remediation plan.  We will then remove the mold using advanced cleaning products and equipment and keep the mold growth contained to the affected areas to protect the rest of the home or building.
Our mold remediation services consist of the following steps:
Observation and assessment to determine the scope of the mold growth
Report of our assessment to your insurance provider
Isolation of the affected area to contain the damage
Creation of a written remediation plan that includes the appropriate cleaning procedures based on the assessment
Complete removal of the mold and repair or replacement of the affected surfaces
Professional Mold Removal
As soon as you notice mold growing in your home or business in Omaha, NE, it is crucial to call ServiceMaster Restoration Services to remove the mold before it causes further damage.  We work with testing facilities to help accurately assess the mold growth in your home or business and we can effectively remove it with the latest cleaning products and equipment of the industry.
Free Estimate
You can call us at (402) 973-3858 for more about our mold remediation services.
---
Related Mold Damage Cleanup Services
Mold Remediation Services in Fremont, NE
---
Recent Reviews