A fire can cause a significant amount of damage to your property and while getting everyone to safety is your top priority, you may also wonder how you are going to fix the damage. Aside from the damage that is caused by the flames, the soot and smoke can also lead to damage that keeps spreading after the fire is out. Burnt synthetic materials tend to leave behind a lot of residue and before long, soot settles on the surfaces and features of the property which leads to tarnishing and etching of the affected items. The odors that the smoke produces spread throughout the indoor spaces and get absorbed into the furnishings and building materials.
ServiceMaster Restoration Services provides quick and efficient smoke damage restoration in Omaha, NE to both residential and commercial customers. Our team includes experienced technicians that work methodically to remove the etching and tarnishing caused by the soot and smoke.
The Impact of Corrosive Byproducts and Soot
Most homes and offices have a lot of synthetic materials including furniture and flooring.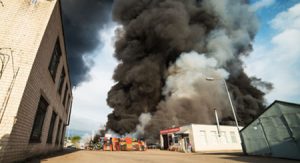 When these materials get burnt in a fire, they leave behind a residue that continues to stay active long after the flames have been extinguished. It takes no more than 72 hours for surfaces to get permanently affected by the corrosive properties of these byproducts as well as soot from the smoke.
The one way to stop this development is to call for professional smoke damage restoration without delay. We can restore features such as aluminum, stainless steel, brass and porcelain as well as furniture and carpeting affected by corrosive byproducts.
Smoke Damage Restoration in Omaha, NE
What makes matters worse is the fact that the damage caused by the smoke isn't always evident. The odor of the smoke finds its way into elements such as upholstery, carpeting, drywall and wood. Our technicians are highly trained and use the latest equipment and techniques such as ozone & hydroxyl technology, to ensure that no traces of smoke odor linger on your property. We also use specialized methods to make sure that your home or commercial property continues to stay that way even after the smoke damage restoration work is completed by our technicians.
If your home or building in Omaha, NE has been affected by a fire, call ServiceMaster Restoration Services without delay. We are ready to respond 24/7 and will quickly send our technicians to assess the damage and provide the best-suited solutions.
Emergency Response
You can call us anytime at (402) 973-3858 for expert smoke damage restoration in Omaha, NE.
---
Related Smoke Damage Cleanup
Smoke Damage Cleanup Services in Fremont, NE
Smoke Damage Mitigation Company in Elkhorn, NE
Fire Damage Restoration in Omaha, NE
---
Recent Reviews