United Water Restoration Group of Omaha
Anyone who lives in an area that experiences a lot of rain and inclement weather understands just how nerve-wracking the prospect of a flooded basement can be. Whether it's due to rain or a natural disaster, basement flooding can be problematic in many ways. A flooded basement can cause damage to your home, damage to possessions stored in your basement, and it can also be a large financial burden. That financial burden becomes even larger when the damage is not taken care of in a timely manner.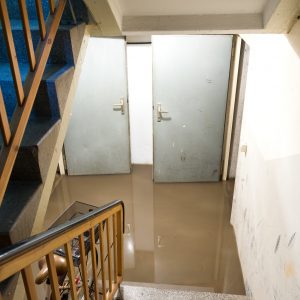 We at United Water Restoration Group of Omaha offer expert-level basement cleanup services in Omaha, NE. If your property is currently suffering from a flooded basement and the undesirable effects it brings about, call us today at (402) 673-6244.
Potential Damages Caused by Flooding
Here are just a few things that can happen if you allow standing water to linger for too long.
Mold infestation.
The loss of expensive items that are typically stored in a basement.
Property structural damage which poses a big financial and safety threat.
Damage to carpeting and drywall.
Flooded Basement Cleanup in Omaha, NE
We take a measured approach to fixing the damage caused by flooding, and we utilize the following steps while doing so:
Quickly Respond – We will have a team of technicians out to your property immediately to curb the damage as much as possible and prevent any further destruction.
Remove the Water – The next step is to remove any standing water that is in your basement.
Drying Process – We then dry out the damaged areas to ensure there is no potential for mold growth.
Clean the Area – After drying is done, we will clean and disinfect the entire basement to make sure you and your loved ones can return to a safe environment.
Reinstall – We will then reinstall any furniture, appliances, electronics, or carpeting that were removed when drying the area.
Available 24/7
When your basement is flooded, you need to act fast. Call United Water Restoration Group of Omaha at (402) 673-6244 for emergency flooded basement cleanup in Omaha, NE.
---
Related Services:
Water Extraction Omaha, NE
Flood Cleanup Omaha, NE
Water Damage Restoration Omaha, NE
Mold Remediation Omaha, NE
Water Mitigation Omaha, NE
Water Extraction Bellevue, NE