Natural calamities have a way of coming unannounced and when that happens, they throw things out of gear. Calamities such as a flood can be unstoppable, regardless of the measures you take to protect your property. When you notice that your house is flooding, you act quickly and start removing the more expensive pieces and furniture from different rooms.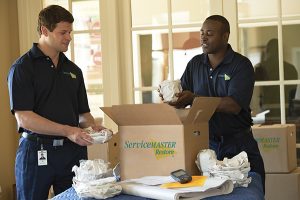 But no matter how hard you try and how fast you move, it's not always practically possible to move every little belonging out of there. Once the flood waters start receding, you realize exactly how many of your belongings have been damaged. At this point, it becomes very difficult to clear all these things.
Contents Restoration
But all hope isn't lost; we at ServiceMaster Restoration Services provide content cleaning and pack-out services in Omaha, NE. You will find us to be prompt and professional and when you call us, we have a very effective work process in place that ensures the problem is addressed with the least amount of delay:
Our personnel will quickly visit your premises soon after you call us and will survey all the areas that have got impacted.
They will make note of the items that have been affected and check which of these are salvageable.
The first thing they do is clean and sanitize all the spaces where the flood waters have entered.
The belongings will be thoroughly cleaned and deodorized and kept to dry under heavy-duty air blowers.
Our experts work very efficiently and deftly, yet carefully remove the affected items from your home.
Sometimes, it's not possible to clean the damaged items on the property because the structure is declared unsafe. In this event, we take your belongings to another location for cleaning.
Restoration of Personal Items
We have the expertise, experience, and the resources to handle content cleaning and pack-out services in Omaha, NE of every scale. Regardless of the number of belongings that have to be salvaged, we tackle the job very efficiently. Our experts will also help with the nitty-gritty of filing insurance claims. With us in your corner, you will find it much easier to deal with this calamity and will be able to salvage much more of your precious belongings.
Immediate Response
If you would like to learn more about our specialized content cleaning and pack-out services in Omaha, NE, feel free to call ServiceMaster Restoration Services at (402) 973-3858 for more information.
---
Related Contents Restoration and Pack Out Services
Content Cleaning And Pack-Out Company in Fremont, NE
Contents Restoration And Pack-Outs in Elkhorn, NE
---
Recent Reviews