If you have experienced a fire on your property, then we encourage you to call our fire damage restoration experts immediately. Fires, along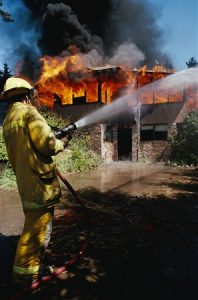 with their resulting smoke and soot, can cause tremendous structural damage to your home or business, even if the fire is well contained. Here at ServiceMaster Restoration of Tri-Cities, we understand how fire, smoke, and soot spread, and can mitigate the risks of future emergencies due to resulting damage.
Our experts are experienced in all aspects of fire damage restoration, as well as smoke and soot damage restoration. Additionally, our technicians are among the best in all of Nebraska, and are available to those in the Hastings, NE, area 24 hours a day.
Fire Damage Restoration Grand Island, NE
For professional fire damage restoration services in Hastings, NE, call ServiceMaster Restoration of Tri-Cities at (308) 210-2595.
When you hire ServiceMaster Restoration of Tri-Cities for fire damage restoration, you can expect the following:
Quick Response and Open Communication: We understand how critical it is to address fire, smoke, and soot damage as quickly as possible. We do what we can to arrive on-site in a timely manner, and go the extra mile to keep you informed about our plans and progress.
Thorough Inspection of Affected Areas: Fire, smoke, soot, and other harmful byproducts have a tendency to damage a variety of hard to reach places. Our technicians know what to look for, and will develop a plan of action based on our findings.
Tarping Services: Smoke, soot, and other corrosive elements can spread days, and even weeks, after a fire has taken place. We provide tarping services in order to secure your property and limit the spread of harmful agents.
Board Up Services: In more extreme circumstances, we can provide board up services to support homes and buildings that are structurally damaged. We will then discuss how to proceed with reconstruction efforts.
Clean Up and Restoration: Our expert technicians utilize professional cleaning equipment to effectively rid your property of harmful chemicals, and restore your home or business to its original condition. We can also provide water damage restoration for building materials that were damaged from the fire hoses.
Fire Damage Restoration Tips
In order to minimize the negative effects of fire, smoke, and soot damage to your property, we recommend that you follow these tips:
Contact our fire damage restoration experts at ServiceMaster Restoration of Tri-Cities immediately after the flames has been extinguished.
Do not turn on your air conditioner or furnace.
Allow professionals to clean soot from various surfaces, as incidental damage may be caused if cleaned improperly.
Do not utilize electronics until they have been inspected.
Stay off furniture.
Dispose of any consumables that may have been exposed to the fire, smoke, or soot.
Emergency Response to Fire Damage Restoration
If you live in the Hastings, NE, area and would like to utilize our fire damage restoration service, contact ServiceMaster Restoration of Tri-Cities at (308) 210-2595. We are available 24 hours a day to take your call, and will get a service team to your location as quickly as possible.
---
Related Fire Damage Repair Services:
Smoke Damage Cleanup Lincoln, NE
Fire Damage Cleanup Grand Island, NE
Smoke Damage Restoration Bellevue, NE
Fire Damage Restoration Gretna, NE
Fire Damage Repair Papillion, NE
---
Recent Reviews
May 30, 2020
Steve and Wendy Shaw
Omaha, NE
We were impressed from the beginning. The quick response on a weekend was appreciated and Jesus and Grant went above and beyond from start to finish. Jesus' communication was like none I've ever experienced. They were clean, informative, professional and efficient. I called ServiceMaster because my parents used them 20 years ago and had a great experience. I will recommend ServiceMaster whenever I can.