Violent crimes and accidents are by no means easy to deal with for victims and their families. In addition to serious injury, and even potential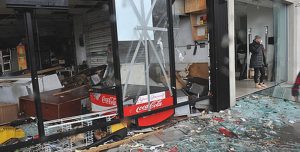 death, of close friends or family, survivors can be left with the difficult task of cleaning up after the tragedy. Here at RestorationMaster, we take a personal and sensitive approach in our biohazard and trauma scene cleaning services.
We understand that this is an emotionally difficult time for you, and will do everything in our power to make restoration efforts the least of your worries.
Dangers of Biohazards
It is important that you leave the cleaning of biohazard materials (such as blood and other bodily fluids) to experts, as they can pose a serious health risk to you and others if handled improperly. This is because viruses or harmful bacteria may live within the fluids, and mishandling them can spread various diseases.
Professional cleaning equipment is also required to completely sanitize and restore your property. Unfortunately, law enforcement and EMTs do not possess the equipment or capability to effectively clean a trauma or crime scene. If it is on your property, then it is legally your responsibility to get it cleaned, too. The last thing you need is a lingering reminder of the accident.
Our biohazard cleanup services include the following:
Timely Response and Open Communication: We understand how important it is to restore crime and trauma scenes quickly for both sanitation and emotional reasons. We are available 24 hours a day, and can arrive on-site shortly. We will keep you informed as to our plans and progress as we work.
Decontamination: In order to prevent the spread of harmful diseases, viruses, and bacteria, we will utilize our professional cleaning equipment to fully decontaminate the scene, and remove all traces of biohazard materials.
Proper Disposal of Biohazard Materials: We carefully handle all biohazard materials, and deliver them to a licensed medical waste facility in order to ensure that they are disposed of properly.
Deodorization: Trauma scenes, for many reasons, may have nauseating and pungent odors. We effectively deodorize the affected area, as well as any of your damaged belongings.
Continuous Monitoring and Privacy: We work swiftly and discreetly throughout the cleanup process. We even utilize unmarked vehicles to ensure you greater privacy.
Family Assistance and Support: As stated before, we understand that this may be a troubling time for you, your family, and your friends. We always treat our clients with compassion, and can refer grieving individuals to counseling professionals if need be.
Biohazard Cleanup Hastings, NE
In the event that a crime or severe accident does occur on your property, law enforcement may require additional time to analyze the scene. We have experience working with law enforcement throughout our biohazard and trauma scene cleaning process, and encourage you to let us handle this aspect of the job.
This way, you will not be obligated to return to the scene as often. Rest assured, our expert technicians are highly trained and certified to safely clean up biohazard materials. We comply with all local and state government regulations.
Contact Us
If you live in the Hastings, NE, area and need biohazard and trauma scene cleaning services, contact RestorationMaster at (308) 223-3303. We are available 24 hours a day to receive your call and respond to your emergencies.
---
Related Trauma Cleanup Services:
Biohazard and Trauma Cleaning Services Lincoln, NE
Trauma Scene Cleanup Company Grand Island, NE
Biohazard Cleanup Omaha, NE
Biohazard Cleanup Services Elkhorn, NE
Biohazard and Trauma Cleanup La Vista, NE