(308) 210-2595
The odds of encountering the scene of a serious accident or violent crime on your property may be low, but knowing how to react is important for your safety.  Witnessing the aftermath of a major injury or death is very difficult emotionally and the biohazard materials at the scene are dangerous for your health.  You must immediately call 911 for law enforcement and EMTs to respond, and contact a licensed professional equipped to clean and decontaminate the scene.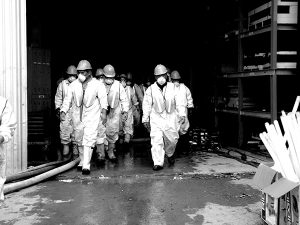 ServiceMaster Restoration of Tri-Cities provides trauma and crime scene cleaning services in Grand Island, NE and the surrounding Tri-City area.  Our technicians can safely remove biohazard materials and thoroughly decontaminate the scene to prevent serious health effects.  We also make sure to protect the privacy and emotions of those who have lost a loved one.
Dangers of Biohazards
When a violent crime or accident occurs, there is a good chance the scene is contaminated with biohazard materials such as blood and bodily fluids.  Biohazard materials potentially contain dangerous toxins that spread infection or disease, and any mishandling or improper cleaning will make these adverse health effects more likely.
You cannot expect law enforcement officials to clean and restore the scene because it is not part of their training.  Restoring the scene is the responsibility of the property owner and must be done by a professional that is licensed to handle cleaning up biohazard materials.
Biohazard Cleanup Grand Island, NE
At ServiceMaster Restoration of Tri-Cities, our technicians are properly trained and equipped to remove biohazard materials and transport them to the right facility for disposal.  After removing the biohazard materials, we will deep clean and disinfect the scene so it can be used again without fear of health effects.  If law enforcement is conducting a crime scene investigation, our technicians will cooperate with them to avoid compromising the investigation.
The trauma and crime scene cleaning services we provide include:
Decontamination: All biohazard materials are completely removed and we restore the scene with thorough cleaning and decontamination.
Proper Disposal: All biohazard materials are taken to a medical waste facility licensed for disposal.
Odor Removal: We use our deodorization techniques to remove foul odors.
Continuous Monitoring: We restore the scene as quickly as possible and make sure to protect your privacy throughout the process.
Family Assistance and Support: Losing a loved one in this fashion is especially painful. Our technicians make sure to approach with a sense of compassion for those who have lost a loved one and we can also put them in touch with counseling professionals if necessary.
Certified Technicians: Each one of our technicians is certified to handle the removal of biohazard materials and we follow local and state government regulations.
Immediate Response
Reacting quickly in the aftermath of a violent crime or accident is crucial for your safety.  You must stay clear of the scene if possible and call the right authorities immediately.  Our professionals at ServiceMaster Restoration of Tri-Cities are prepared to clean up and restore trauma and crime scenes in Grand Island, NE and the surrounding Tri-City area.
You can call us 24 hours a day at (308) 210-2595 for emergency assistance with biohazard cleanup services.
---
Related Trauma Cleanup Services:
Biohazard Cleaning Company Lincoln, NE
Trauma Scene Cleanup Services Hastings, NE
---
Recent Reviews
May 30, 2020
Steve and Wendy Shaw
Omaha, NE
We were impressed from the beginning. The quick response on a weekend was appreciated and Jesus and Grant went above and beyond from start to finish. Jesus' communication was like none I've ever experienced. They were clean, informative, professional and efficient. I called ServiceMaster because my parents used them 20 years ago and had a great experience. I will recommend ServiceMaster whenever I can.