Dealing with the aftermath of a serious injury or death caused by a violent crime or accident is very difficult. Witnessing the scene can be disturbing and emotionally overwhelming and the presence of biohazard materials such as blood and bodily fluids make the scene extremely dangerous. Calling the proper authorities is crucial when you discover such a scene, but you will also need to call a professional that can safely remove all biohazardous materials.
United Water Restoration Group of Omaha provides biohazard and trauma scene cleaning services in Lincoln, NE to safely remove all dangerous contaminants while restoring the scene. While our technicians have powerful equipment to clean up biohazard materials, we approach these projects with a sense of compassion and respect for those who have experienced a loss.
Crime Scene Cleaners Lincoln NE
The scene of a violent crime or serious accident is likely to contain dangerous biohazard materials, including: blood, tissue, and other bodily fluids. It is possible for these materials to contain disease-causing agents such as viruses or bacteria; however, cleaning them improperly only increases the risk of spreading disease. Law enforcement and EMTs do not have the capability to clean up trauma or crime scenes, and if they occur on your property, it is your responsibility to have it cleaned.
Our technicians at United Water Restoration Group of Omaha will effectively remove any type of biohazard materials, using powerful cleaning products and disinfectants to return the scene to a safe condition. We also know how to work with law enforcement so that we do not interrupt the crime scene investigation.
Our biohazard and trauma scene cleaning services include the following:
Decontamination: We will remove all traces of biohazard materials and ensure the entire area is decontaminated to prevent the spread of disease or infection.
Proper Disposal: We deliver biohazardous materials to a licensed medical waste facility that can safely have them disposed.
Deodorization: Unpleasant odors are removed completely with our powerful deodorizers.
Continuous Monitoring: We work quickly and discreetly to finish the job, arriving in unmarked vehicles to keep your privacy protected.
Family Assistance and Support: We understand that this can be a very traumatizing and difficult time if there has been a death. We treat those who are grieving with compassion and we will also refer them to counseling professionals if they need further support.
Certified Technicians: Our technicians are highly trained and certified to safely clean up biohazard materials in compliance with local and state government regulations.
Biohazard Cleanup Lincoln NE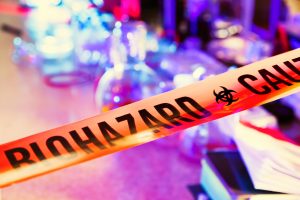 It can be very traumatizing to find the scene of a violent crime or accident on your property, but it is very important for your safety to take the right actions. As soon as you notify law enforcement, contact United Water Restoration Group of Omaha to restore the scene with our trauma scene cleaning services.
We will safely remove biohazard materials and prevent the spread of disease or infection as the scene is restored to its previous condition.
We are available 24 hours a day at (402) 389-4153 to respond to emergencies in Lincoln, NE.
---
Related Trauma Cleanup Services
Biohazard Cleanup Services Hastings, NE
Trauma Cleaning Company Grand Island, NE
Biohazard Cleanup Services La Vista, NE
Biohazard Cleanup Company Omaha, NE
Biohazard Cleanup Contractor Elkhorn, NE