Water is the main source of damage in a home or building because there are many ways excess water or moisture can accumulate indoors. Water damage commonly occurs from heavy rain or natural floods as well as non-natural factors such as leaks, overflows, and pipe bursts. Porous building materials including drywall, flooring, and wood absorb excess water, allowing it to spread and cause structural damage. The presence of excess moisture also raises the risk of mold growth.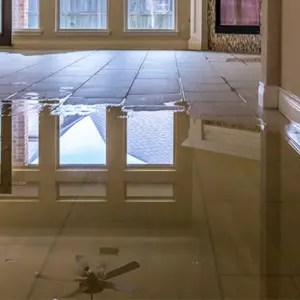 United Water Restoration Group of Omaha provides water damage restoration services in Lincoln, NE to remove excess water and dry the affected materials. We can effectively stop the water from spreading and extract moisture from furnishings and building materials with our advanced drying equipment.
Water Damage Restoration Lincoln, NE
For professional water damage restoration services in the Lincoln, NE area, call United Water Restoration Group of Omaha at (402) 389-4153.
Water Restoration
Excess water or moisture in your home can be a major issue, regardless of how it starts. Once it enters your home or building, it gets absorbed and spreads through woodwork, flooring, furnishings, drywall, and other porous building materials. Materials that absorb the water are vulnerable to structural damage and mold growth unless they are thoroughly dried.
Our technicians at United Water Restoration Group of Omaha are IICRC-certified and equipped to stop the spread of the water and remove it with water extraction and drying equipment. We start by removing all excess water or moisture and then set up our drying equipment throughout the affected area to extract moisture from building materials and furnishings.
We will also locate and fix the source of the moisture while taking actions to prevent mold growth.
Water Damage Restoration – What to Do:
Call United Water Restoration Group of Omaha of Lancaster County right away for emergency water damage restoration.
Remove any area floor rugs, artistic objects, and other content that is not tacked down to the floor.
Prop up all furniture skirts, pillows, and cushions.
Increase air flow throughout the property by opening the windows, if weather permits.
Pack books tightly in their shelves.
Place any draperies on a hanger or drying rack to dry out thoroughly.
Mop or blot dry any areas containing excess water.
Water Damage Services – What NOT to Do:
Do not use a vacuum to extract any water yourself.
Do not enter any room with severe electrical or structural damage.
Do not touch any sewage-contaminated water.
Do not try to remove carpeting or any furnishing that is tacked down to the floor.
Our water damage restoration services include these steps:
Emergency Response and Inspection: Our technicians respond 24 hours a day to water damage emergencies. We will immediately inspect the affected areas and form a restoration plan.
Water Extraction and Drying: Our advanced water extraction equipment will remove standing water. The drying equipment will extract moisture that is absorbed in furnishings, flooring, and various building materials.
Reinstallation and Cleaning: We will move large items including furniture to thoroughly clean and restore the area. When we finish the cleaning, we will move these items back in their places.
Structural Repairs: We provide full reconstruction services to repair severe structural damage caused by flooding or excess water.
Available 24/7
You must take action as soon as you notice excess water in your home or building because ignoring it will only lead to further damage and mold growth. Give United Water Restoration Group of Omaha a call to remove excess water from your home or business in Lincoln, NE and restore the damaged areas.
We are available 24 hours a day at (402) 389-4153 to respond to your emergencies.
---
Related Water Damage Restoration Services:
Water Damage Restoration Grand Island, NE
Water Damage Cleanup Hastings, NE
Water Cleanup Gretna, NE
Water Damage Repair Bellevue, NE
Water Damage Restoration Papillion, NE
Water Damage Restoration Sarpy County
Water Restoration Omaha, NE
Water Damage Restoration Services Elkhorn, NE
Water Restoration Services La Vista, NE