From natural flooding to internal issues like pipe bursts, water damage can occur in various ways, which makes water the top culprit of property damage. When water enters your home or other building, it becomes absorbed by porous building materials, including wood and drywall, and this causes structural damage. Until eliminated, the water will continue to spread and be absorbed, and it can even lead to mold growth.
If you have a water-damaged home or business in Bellevue, NE, ServiceMaster of Sarpy County can help through the water damage restoration services we provide. Our technicians will contain the water to prevent it from spreading further and will use advanced drying equipment to remove moisture from damaged building materials and furnishings.
Call ServiceMaster of Sarpy County at (531) 365-0565 if you are in Bellevue, NE, and need of professional water damage restoration services.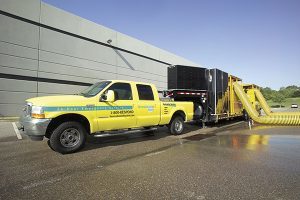 Water Damage Restoration Bellevue, NE
If you have excess water or moisture in your home or business, it's concerning regardless of where the water originated from. Upon entering the property, porous building materials will absorb and spread the water throughout the space. If not dried thoroughly, this absorption leads to structural damage and potential mold growth.
At ServiceMaster of Sarpy County, we employ IICRC-certified technicians who are properly equipped to contain water to stop it from spreading and to extract excess water and moisture. To begin, we extract standing water from your property. Then, we proceed by setting up drying equipment that removes moisture from affected furnishings and building materials.
We will also provide mold removal services if needed.
Water Restoration Bellevue, NE
For emergency water damage restoration services in Bellevue, NE, contact ServiceMaster of Sarpy County at (531) 365-0565.
Water Damage Restoration – What to Do:
Immediately call ServiceMaster of Sarpy County for our emergency water damage restoration services.
Any items not tacked to the floor, such as area floor rugs, should be removed.
Prop furniture cushion, pillows, and skirts up to help with the drying process.
If weather permits, open windows to increase the airflow in your home or business.
Tightly pack books together on shelves.
Put draperies on a hanger and hang them up on the curtain rod to keep them off the ground and allow them to dry.
Get a mop to dry excess water or blot these areas dry.
Water Restoration – What NOT to Do:

Do not extract water on your own using a standard vacuum.
Do not go into any rooms or areas that have serious structural or electrical damage.
Do not come into contact with water contaminated by sewage.
Do not attempt to remove furnishings or carpeting that has been tacked to the floor.
The following steps are included within the water mitigation services that we provide:
Emergency Response and Inspection: Available on a 24/7 basis, our technicians respond to water damage emergencies no matter the time of day, week, or year. We will get to work right away by doing an inspection of the damage and proceed by creating a proper restoration plan.
Water Extraction and Drying: Our technicians will get rid of standing water by using advanced water extraction equipment. We extract moisture from building materials and furnishings by using specialized drying equipment.
Reinstallation and Cleaning: Our technicians will move furniture and other large objects out of the way to allow for a thorough cleaning and restoration. After we finish our work, we will move the furniture and other large items back to where they were.
Structural Repairs: Our technicians will do reconstruction work to repair any structural damage that occurred as a result of the water.
Available 24/7
If you find that your home or business is the site of excess water, it is crucial that you act immediately. Otherwise, the water will continue to spread and cause property damage. We will get rid of the excess water and moisture in your property and will do all restoration work needed. Furthermore, we can be reached for these services on a 24/7 basis.
Call ServiceMaster of Sarpy County at (531) 365-0565 for complete water damage restoration services in Bellevue, NE and the surrounding areas.
---
Related Water Damage Repair Services:
Water Damage Restoration Gretna, NE
Water Damage Cleanup Hastings, NE
Water Removal Lincoln, NE
Water Restoration Grand Island, NE
Water Damage Restoration Services Papillion, NE
Water Removal Sarpy County
Water Damage Restoration Omaha, NE
Water Restoration La Vista, NE
Water Damage Repair Elkhorn, NE
---
Recent Reviews
August 31, 2021
Nancy Mcmanis
Louisville, NE
August 31, 2021
Your men arrived promptly and survey the damage. They explained in detail what they were going to do and took measures to see what areas had water damage. As they kept us informed as they work on assessing the damage area. They brought in fans to dry the areas that were affected. The disposed of the things that were damaged. They were friendly and knew exactly what needed to be done.