Water damage is a very common issue in homes and commercial buildings because there are many different causes of water damage.  Whether you have water damage in your home or building from excessive rain or flooding, or from issues such as leaks, overflows, or burst pipes, you need to address the problem quickly.  Water will immediately get absorbed by porous building materials like wood, flooring, and drywall which puts these materials at risk of stains, structural damage, and mold growth.
At ServiceMaster of Sarpy County, we provide water damage restoration services to remove water and moisture from homes and commercial buildings in Gretna, NE and dry and restore the damaged areas.  We use advanced extraction and drying equipment to ensure all water is removed and will take steps to prevent mold growth.
Damage Caused by Water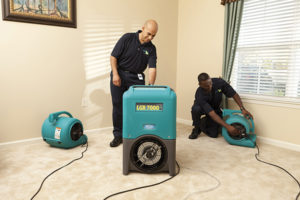 The porous nature of wood, drywall, flooring, carpeting, and furniture makes excess water and moisture a damaging presence on your property.  As these materials absorb the excess water, they allow the water to spread and will become weakened and rotted, impacting their structural integrity.  But hesitation to address the excess water will allow the damage to become worse and increase the risk of mold growth.
Our technicians will immediately locate and fix the source of the excess water and prevent the water from spreading further.  Our advanced water extraction equipment can remove any amount of water, including standing flood water, and our drying equipment will ensure that every bit of moisture is extracted from wet materials.  Once the water and moisture is removed, we will clean and repair the affected areas. Mold removal services will also be provided if needed.
Water Damage Restoration Gretna, NE
For professional water damage restoration in Gretna, NE, contact ServiceMaster of Sarpy County at (531) 365-0565.
What to Do After Water Damage
Call ServiceMaster of Sarpy County immediately so we can stop the spread of the water and begin the restoration.
Remove area rugs, artwork, and other at-risk objects and put them somewhere safe.
Lift furniture skirts off the floor and prop up wet pillows and cushions.
Open windows if the weather permits to help with the drying.
Keep damaged books packed together on the shelf to prevent warping.
Keep drapes off the floor using a coat hanger.
Mop or blot dry excess water.
What Not to Do After Water Damage

Do not try to remove water with a vacuum cleaner.
Do not enter rooms that are heavily damaged or have electrical issues.
Do not come into contact with water that may be contaminated.
Do not try to remove permanent flooring or furnishings.
Our water damage restoration services consist of the following steps:
Emergency Response: We are available 24 hours a day and will respond quickly to your call to limit the damage. Our technicians will evaluate the damage and quickly begin the restoration process.
Water Extraction and Drying: We use advanced water extraction equipment to remove all standing water and our dehumidification and drying equipment can extract moisture from wet materials.
Reinstallation and Cleaning: Any furniture and other objects that are removed during the restoration process will be replaced or reinstalled.
Structural Repairs: We can repair structural damage caused by excess water.
It is important for you to call us as soon as you notice a water damage issue on your property in Gretna, NE.  Our technicians will arrive right away to remove the excess water and implement a restoration plan to get your property back to its original condition.
Emergency Response
You can reach us 24 hours a day at (531) 365-0565 for emergency water damage restoration.
---
Related Water Damage Services:
Water Damage Cleanup Lincoln, NE
Water Extraction Hastings, NE
Water Restoration Grand Island, NE
Water Damage Restoration Papillion, NE
Water Damage Mitigation Bellevue, NE
Water Damage Restoration Sarpy County
Water Restoration Services Omaha, NE
Water Restoration Company La Vista, NE
Water Damage Restoration Services Elkhorn, NE
---
Recent Reviews
August 31, 2021
Nancy Mcmanis
Louisville, NE
August 31, 2021
Your men arrived promptly and survey the damage. They explained in detail what they were going to do and took measures to see what areas had water damage. As they kept us informed as they work on assessing the damage area. They brought in fans to dry the areas that were affected. The disposed of the things that were damaged. They were friendly and knew exactly what needed to be done.