Water damage is already a serious problem, but the situation becomes much more damaging and dangerous if the water is contaminated by sewage.  Sewage water contains dirt, waste, and harmful toxins that will make the damage worse and put your health at risk.  If you believe that the water on your property is contaminated by sewage, then you must call our professionals right away and stay away from the affected areas.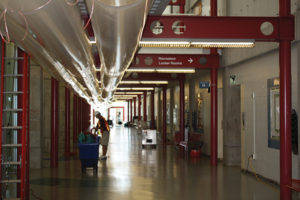 At RestorationMaster, we provide sewage cleaning services to help homes and businesses in Gretna, NE that have been affected by a sewage backup or flooding.  You can expect our technicians to arrive at your property within 2 hours of your call to start removing the contaminated water.  We will ensure that all sewage is removed from the property and we can effectively clean and disinfect the damaged areas to prevent negative health issues.
Damage Caused by Sewage Water
The damage caused by sewage water is much worse than that caused by clean water.  The waste materials in the sewage get absorbed in the affected furnishings and structural elements which can quickly result in permanent damage.  Sewage can also leave a foul odor behind that will spread throughout your property.
In addition to the damage, sewage is dangerous because of the threat it poses to your health.  Sewage water contains harmful toxins like bacteria and other microorganisms that can trigger illnesses and infection.  This is why it is best to stay away from any water on your property that might contain sewage.
Sewage Cleanup Gretna, NE
Our technicians at RestorationMaster will arrive quickly to remove the sewage water and begin the cleaning process to prevent permanent damage.  Once the sewage water is removed, we will dry and thoroughly clean the disinfected areas and repair the resulting damage.  We use powerful cleaning products and disinfectants that will remove the harmful materials and help prevent serious health issues.  We can also remove any lingering odors that may be left by the sewage.
Our technicians will take the following steps to remove sewage from your property:
Emergency Response: We are available 24/7 to respond to sewage backup emergencies and begin the restoration process.
Full Inspection: We will start by inspecting the extent of the damage and stopping the source of the sewage.
Complete Restoration: Our IICRC-certified technicians have the experience and the equipment to safely remove sewage water, dry, and disinfect the affected areas, and repair the resulting damage. If materials have been permanently damaged, we will remove them from the property. Mold removal will also be provided if any spores or growth is found in the affected area.
Work with Insurance: We will work with your insurance company to help file any claims related to the damage.
If your property is affected by sewage contaminated water either due to a sewage backup or flood damage, call our experts right away for sewage cleaning services.  Our technicians will remove the sewage safely while protecting your property and your heath.
Available 24/7
You can reach RestorationMaster at (402) 673-6244 for emergency sewage cleaning services in Gretna, NE.
---
Related Sewage Backup Cleaning Services:
Sewage Cleaning Lincoln, NE
Sewage Cleanup Grand Island, NE
Sewage Backup Cleaning Hastings, NE
Sewage Cleaning Services Papillion, NE
Sewage Cleanup Services Bellevue, NE
Sewage Cleanup Company Sarpy County