(308) 210-2595
It can be an overwhelming situation to find that a disaster has severely damaged your property's structure. This situation is difficult to respond to and it is common to be unsure of what you need to do next. Serious damage to the exterior or structural core of your home can make it vulnerable to further damage and dangerous to inhabit.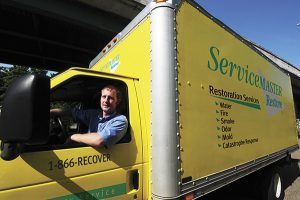 That said, immediate service to your property is important. ServiceMaster Restoration of Tri-Cities provides homes and businesses in Grand Island, NE with emergency board up services. These services will help maintain your home or building's structure while limiting the potential for additional damage.
Damages Caused by Disasters
A property's core can be significantly damaged by several disasters — whether they are floods, storms, vandalism, or fires. A building's roofing and siding can be harmed, too. Holes in the siding or roofing can be another result of disasters, and these holes are perfect opportunities for further damage from weather or even vandals.
In addition, small animals can also crawl in and cause additional damage, even leaving behind biohazards and odors. Nuisance critters like raccoons, squirrels, birds, bats, can all make a home out of yours as well as your contents. If the roof is damaged, it won't be long until the next rainfall causes severe water damage to the attic and even the building materials below.
To limit the potential for such situations, our technicians will perform emergency board up services to stabilize and secure your property. ServiceMaster Restoration of Tri-Cities will arrive to your home or building in a prompt manner to perform these services. The stabilization we provide is temporary; however, it is essential for the ongoing restoration process.

Our emergency board-up services include the following tasks:
Covering up all holes and other openings.
Providing temporary enclosures.
Puting up barricades where they are necessary.
Covering damaged roofs with tarp.
Free Estimate
ServiceMaster Restoration of Tri-Cities can help your severely damaged property in Grand Island, NE with our emergency board-up services. With this service, we are able to maintain your home or building's structural integrity while the restoration process takes place. To reach us for this work, call us at (308) 210-2595 where we are available 24/7.
---
Related Board Up Services:
Board Up and Tarping Services Lincoln, NE
Emergency Board Up Services Hastings, NE
Board Up and Tarping Gretna, NE
Emergency Board Up and Tarping Company Papillion, NE
Board Up and Tarping Professionals Bellevue, NE
---
Recent Reviews
May 30, 2020
Steve and Wendy Shaw
Omaha, NE
We were impressed from the beginning. The quick response on a weekend was appreciated and Jesus and Grant went above and beyond from start to finish. Jesus' communication was like none I've ever experienced. They were clean, informative, professional and efficient. I called ServiceMaster because my parents used them 20 years ago and had a great experience. I will recommend ServiceMaster whenever I can.