While the issue of hoarding in America continues to grow, those that are affected often don't realize it. In fact, many have become immune by their living conditions after living in them for so long. But the horror of the situation is that their disorder breeds an unsafe environment that will allow for mold, biohazards, and odors to take over their home; therefore, hey will need the help of a trusted individual to reach out to a cleanup service.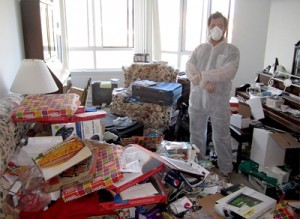 After speaking with them about their living conditions and getting their approval, contact RestorationMaster for hoarding cleanup services right away if they live in the Grand Island, NE area. Not only are our technicians trained to handle these situations, but have years of experience in helping affected individuals overcome their conditions. Within a timely manner, we will ensure that all threats to their health and safety are eliminated while restoring a safe and healthy environment.
Problems Associated with Hoarding
When working in a home affected by hoarding, it is common to find items with little to no value cluttering up available spaces and invading walkways. Such items include books, newspapers, magazines, knick-knacks, broken antiques and collectibles, trash, and even animals. When these items are left to accumulate, threats to safety will develop, such as fire hazards, slip-and-trip hazards, biohazards, mold, and others. But again, the individual will need your help as they may have become too embarrassed or even immune to their situation to not notice the problem.
As soon as you have spoken with them, contact RestorationMaster for hoarding cleanup services. Our experts will respond right away, first developing a relationship with them to allow them to be comfortable during the cleanup process. We will also put them in charge, careful not to throw away anything with their approval. Finally, we will disinfect the property of all odors, mold, biohazards, and other bacteria, restoring a clean and healthy environment.
All of the following procedures are included with our hoarding cleanup services:
Training and experience: The experts at RestorationMaster are both trained and experienced to help individual affected by hoarding overcome their situation while restoring healthy living conditions.
Removal of unwanted belongings: Our technicians will work with the individual, putting them in charge of the cleaning process, and not removing any items without their approval first.
Disinfection: Once the items have been removed, we will begin to sanitize the property, removing mold, biohazards, odors, and other bacteria from the home.
Working with insurance: If they have chosen to file a claim, we will work with their insurance carrier to ensure a seamless claims process.
Review: We will set up additional appointments to ensure they are recovering well, or schedule additional cleanings, if necessary.
Hoarding Cleanup Grand Island, NE
Despite the growing concern of hoarding in America today, hoarding cleanup services, such as RestorationMaster are ready to respond and help affected individuals while restoring healthy living conditions. If you have a loved one who is currently struggling with a hoarding disorder, don't hesitate to reach out to them to talk about a professional cleaning service.
Free Estimate
RestorationMaster is available in the Grand Island, NE area at (308) 223-3303 to provide professional hoarding cleanup services.
---
Related Hoarding Cleanup Services:
Professional Hoarding Cleaning Lincoln, NE
Hoarding Cleaning Company Hastings, NE
Hoarding Cleanup Services Bellevue, NE
Hoarding Cleaning Services Papillion, NE
Hoarding Cleanup Professionals Gretna, NE
Hoarding Cleaning Services Sarpy County