There are many people in the U.S. who are affected by hoarding everyday, whether they are hoarders themselves or have a family member that hoards. Hoarding is considered a mental disorder and anxiety that plays a large role by preventing affected individuals from throwing anything away.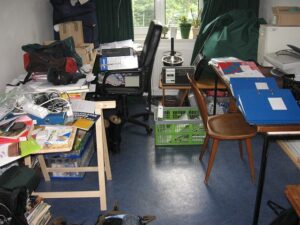 This leads to an unsafe buildup of hoarded items that restricts access through the home, raises the risk of injuries and fires, and harbors the growth of hazardous materials such as bacteria or mold. It is important for a trusted friend or family member to reach out to a hoarder and help them understand that they cannot live safely in these conditions.
United Water Restoration Group of Omaha provides hoarding cleaning services in Sarpy County to remove hoarded items and fully clean and restore the home. We are ready to handle any case of hoarding with state-of-the-art cleaning products and equipment and we directly involve the affected individual in the decisions of what to do with the hoarded items. This involvement helps make it easier for the affected individual to handle by giving them some control in the situation.
Hoarding Cleaning in Sarpy County
The technicians of United Water Restoration Group of Omaha have the training and equipment necessary to completely remove hoarded objects and ensure that the home is cleaned, sanitized, and deodorized. We are equipped to safely remove biohazard materials as well and we use the best personal protective equipment to stay safe as we work.
As we involve the individual in the cleaning process, we will establish a personal relationship as well build on feelings of mutual trust and respect. This connection is important for helping the individual handle the process and getting the cleaning done efficiently.
The hoarding cleaning services we provide are done in compliance with the rules and regulations of OSHA, the EPA, and the Department of Transportation and consist of these steps:
Decontamination: We decontaminate the entire home with thorough cleaning and sanitization once the unwanted hoarded items are removed.
Odor Removal:We can remove lingering odors with our deodorization process.
Proper Disposal:Biohazard materials are taken to a licensed medical waste facility and we will make sure that unwanted hoarded items are thrown away, donated, or recycled.
Available 24/7
Hoarding not only affects the individual, but their families as well by creating unsafe living conditions in the home.
If you know someone in the Sarpy County area that struggles with hoarding, reach out to them and call United Water Restoration Group of Omaha at (402) 673-6244 for hoarding cleaning services.
United Water Restoration Group of Omaha provides hoarding cleaning services for all towns and cities within Sarpy County, including Bellevue, Gretna, Papillion, Richfield, Springfield, La Platte, Offutt Air Force Base, Chalco, and La Vista.
---
Related Services:
Hoarding Cleaning Lincoln, NE
Hoarding Cleaning Services Gretna, NE
Hoarding Cleaning Company Papillion, NE
Hoarding Cleaning Professionals Hastings, NE
Hoarding Cleanup Grand Island, NE
Hoarding Cleanup Services Bellevue, NE