When a storm hits the area, it wreaks havoc on commercial and residential properties and throws your life out of gear. If your property has been badly affected by the storm, you sometimes wonder whether you will be able to get everything back into shape and whether your property will be in a livable condition again.
However it's possible to bring some semblance of order into everything when you have a company like ServiceMaster 24 Hour in your corner. We are one of the front-running companies in the storm damage restoration industry and have helped a significant number of property owners in Clearwater, FL get their homes and commercial establishments back into order.
The services we provide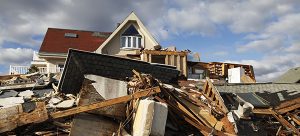 Our company has the expertise, knowledge and the technology to handle all types of storm damage restoration projects in Clearwater, FL, regardless of how complex they are.
The range of services we provide include:
Tarp protection– This is one of the basic services required for many storm-hit properties. When there is damage to the roof, the interior spaces of your home are left exposed. We can install tarps across the impacted areas; this provides temporary protection from the weather and intruders.
Branch & tree clearing– When a storm hits the area, it's common to see a lot of uprooted trees and fallen branches in your landscape. At times, trees may have come crashing down on your home structure as well. We expertly and safely clear all these trees and branches from your property and cart them away from the site.
Water Cleanup– In a storm situation, it's very common for flooding to occur in the basement and crawl spaces of your home. If this water is allowed to stand it can damage the features such as flooring, walls, columns, furniture and carpets etc. We provide excellent water damage restoration services and clear all the excess water from the space and then dry and dehumidify the areas.
Content cleaning and pack-out– There are times when the damage to your house structure is severe and you are concerned about your belongings. We will carefully pack-up and store all the salvageable items at our facility until the time you need them.
In addition, we also provide excellent temporary roof repairs, emergency board-up solutions and comprehensive reconstruction services. It is important to call ServiceMaster 24 Hour as soon as possible if you have experienced storm damage in Clearwater, FL. You can reach us 24 hours a day at (727) 228-7282 to respond to your emergencies.
---
Related Services
Storm Damage Repair Tampa FL
Hail Damage Repair St. Petersburg FL
Storm Damage Restoration Largo FL
Storm Damage Restoration Company New Port Richey
Hurricane Repair Wesley Chapel FL/a>
Storm Cleanup Companies Palm Harbor FL
Storm Damage Specialists Brandon FL
May 11, 2019
I like how professional both Joe and Manny were. They both did an outstanding job with my flooring issues, but more they went out of their way to help me adjust to everything. They both made sure that I was comfortable and had safe access through the house, as my furniture had to be moved out of my bedroom and into my living room. Having a small apartment meant I was limited to a small space during the restoration process. They set up my tv so I could watch while camped out in the living room and then again in my bedroom when I could move back in. They didn't have to do that but this was an example of how they extended such quality consideration for me. I also like how closely your company monitors the progress on a daily basis. I feel that by having such fast attention to my disaster, your company saved my wood flooring and certainly removed the water from my carpet, without the potential for mold to set in. Great work!