When a storm strikes in Tampa, FL, it can cause a considerable amount of damage to your property. Severe storms can bring down trees that can damage your roof, vehicle, and the outdoor spaces on your property. When this kind of storm damage takes place, you find that your home becomes very vulnerable to further damage from the weather and even vandalism.
Water and exposure to the elements can quickly cause the condition of your property and belongings to deteriorate even further. This is why it becomes important to act quickly and call ServiceMaster 24 Hour for quick and efficient storm damage restoration and water cleanup services in Tampa, FL.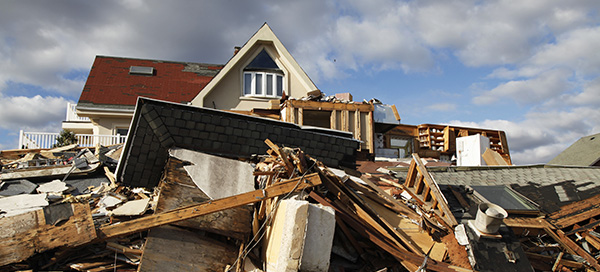 Complete storm damage restoration solutions
We at ServiceMaster 24 Hour have a team of expert certified personnel that are focused on making your property habitable & usable once again after a storm.
We can handle every single aspect of storm damage restoration such as:
Water Cleanup – Any water that has accumulated in the basement areas and crawl spaces can cause a lot of damage to the structure. Flooding also ruins furniture, walls, flooring, carpets and other features on your property. We are extremely efficient in handling this job and will pump out the water, dry and dehumidify all affected areas, repair all physical damage, and remove items that have been irrevocably damaged.
Tarp protection– We install tarps on damaged portions of your roof and this helps curtail further weather damage.
Temporary roof repairs– If the damage to the roof is extensive, we can carry out temporary roof repairs. This helps maintain the security of your property and protects the interior areas from further storm damage, too.
Tree and branch clearing– If there are any uprooted or fallen trees on your property, we can carefully and safely remove those. All debris such as broken glass and building materials will also be removed.
Emergency Board-Up Services – In case the storm has caused a lot of structural damage, it's important to get the affected spots boarded-up on an emergency basis.
We also provide excellent content cleaning and pack-out as well as reconstruction services to rebuild heavily damaged homes and businesses. Our aim is to help you bring back your home into a usable and livable condition as soon as possible.
At ServiceMaster 24 Hour, we encourage you to contact us if your home or business in Tampa, FL has sustained damage from a storm. Our technicians will stabilize and restore the damage using the best equipment available. Just give us a call at (813) 518-8555 and we'll be happy to help.
---
Related Services
Storm Damage Restoration St. Petersburg FL
Storm Damage Repair Largo FL
Storm Damage Restoration New Port Richey FL
Storm Damage Contractors Wesley Chapel FL
Storm Damage Restoration Clearwater FL
Storm Repair Palm Harbor FL
Storm Damage Services Brandon FL
June 7, 2019
I am extremely happy with ServiceMaster. The came quickly to help restore my home that was damaged from a leaking hot water pipe. Shaun was here to assess quickly and create a plan. The Jose and Devario were here quickly to implement it. Jose and Devario came every day on water in my walls. They were prompt and courteous. If I ever need restoration services I will call Servicemaster and request the same technicians.
May 11, 2019
I like how professional both Joe and Manny were. They both did an outstanding job with my flooring issues, but more they went out of their way to help me adjust to everything. They both made sure that I was comfortable and had safe access through the house, as my furniture had to be moved out of my bedroom and into my living room. Having a small apartment meant I was limited to a small space during the restoration process. They set up my tv so I could watch while camped out in the living room and then again in my bedroom when I could move back in. They didn't have to do that but this was an example of how they extended such quality consideration for me. I also like how closely your company monitors the progress on a daily basis. I feel that by having such fast attention to my disaster, your company saved my wood flooring and certainly removed the water from my carpet, without the potential for mold to set in. Great work!