Hoarding is a complicated problem to deal with but more is understood about this disorder than ever before which has led to an improvement in the services designed to help those that struggle with hoarding.  However, it is very important to help someone that struggles with hoarding begin the cleaning process before the living conditions in their home become dangerous and unsanitary.  RestorationMaster provides hoarding cleaning services to help those in Tampa, FL that struggle with hoarding clean out their homes.  We will help completely clean up the home and remove unwanted items while keeping the affected individual in control of the process.
What is Hoarding?
Hoarding is classified as a mental disorder that stems from anxiety and it often leads to an individual developing an inability to throw any items away.  As a result, the home becomes filled with all types of items such as newspapers, food containers, and in extreme cases animals and as the hoard of items grows, areas of the home will become blocked, the risk of a fire greatly increases, and the conditions become much less sanitary as mold and other harmful substances can form within the hoard.  It takes a close friend or family member to help an individual that hoards realize that they need to clean up their home for their own safety.  Hoarders are usually too embarrassed to reach out for help themselves.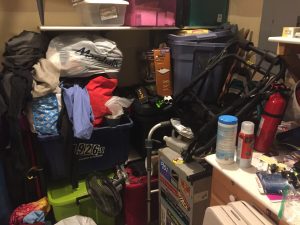 Our technicians at RestorationMaster are certified and well equipped to clean up and restore homes that have been affected by hoarding and we will also disinfect the home once the unwanted items have been removed to restore sanitary living conditions.  Our hoarding cleaning services consist of the following actions:
Saving of valuable items such as jewelry, money, and others
Disposal of unwanted items
Help deciding what to throw away, donate, or recycle
Donation of items to a non-profit of choice
Distribution of kept items to family members
Help with necessary paperwork from trusts, attorneys, and government agencies
Hoarding Cleanup Process
At RestorationMaster, we take an approach to hoarding that emphasizes trust and respect between our technicians and the effected individual and places the individual in charge of deciding what happens to each item.  Our hoarding cleaning approach is split into 3 phases:
Phase 1: Building a Personal Connection
We try to get an initial assessment of the problem before walking into the home.
We build a personal connection with the affected individual based on trust and respect.
We create a cleaning plan with the help of the individual and their family and if further assistance is needed, we can put the individual in touch with a counseling professional.
Phase 2: Forming and Implementing the Cleaning Plan
The cleaning plan is made with the help of the individual and will ensure that all unwanted items are removed.
After the hoard is removed, we help reorganize and sanitize the home.
The individual makes the ultimate decision on which items will be thrown away, kept, donated, given to family members, or recycled.
Phase 3: Follow Up
We help create a cleaning plan for the individual to follow after our services are complete.
We do a follow up phone call with the individual to check their progress on the cleaning plan and if any further help is needed, we will return for more cleaning.
We make sure that the affected individual is in control throughout the entire process.
It is only a matter of time before hoarding becomes a serious problem that threatens the health and safety of the affected individual as well as others that live in the home.  If you know someone who struggles with hoarding in the Tampa, FL area and needs help cleaning their home, contact RestorationMaster to help clean and restore their home to a safe living condition.
Call for Help
You can reach RestorationMaster 24 hours a day at (813) 730-4258 for hoarding cleaning services.
---
Related Hoarding Cleanup Services
Hoarding Cleaning Services for Brandon, FL
Hoarding Cleaning Services for New Port Richey, FL
Hoarding Cleaning Services for Clearwater, FL
Hoarding Cleaning Services for Largo, FL
Hoarding Cleaning Services for Palm Harbor, FL
Hoarding Cleaning Services for St. Petersburg, FL
Hoarding Cleaning Services for Wesley Chapel, FL