Millions of Americans are affected by hoarding every day and the condition itself has become better understood, leading to improved services aimed to help those that hoard.  Hoarding is now seen as a mental disorder with anxiety at the root of the issue, and this anxiety manifests as an inability to get rid of or throw away any item the affected individual has brought into their home.  The steady buildup of hoarded materials creates hazardous and unsanitary living conditions that compromise the health and safety of the affected individual and their family members in the home.  Graystone Restoration provides hoarding cleaning services in St. Petersburg, FL to help clean and restore hoarders' homes to safe and sanitary living conditions.  We also understand the sensitivity involved and take an approach that emphasizes establishing trust and respect with the affected individual.
Hoarding Cleanup Services in St. Petersburg, FL
Most people who struggle with hoarding issues cannot part with or throw away anything, including newspapers, food containers, broken objects or appliances, and in some cases even animals.  The growing hoard of items can result in dangerous conditions by blocking parts of the home, increasing fire risks, and allowing mold, bacteria, and other harmful substances to thrive which can have serious health effects.  What makes these situations particularly difficult is that hoarders rarely reach out for help themselves because they are often embarrassed by the condition of their homes.  If you know someone who has a problem with hoarding, you should approach the individual delicately and try to help them understand the importance of having their home cleaned and restored.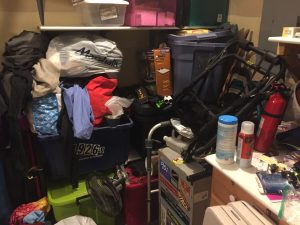 Regardless of the condition of the home, our technicians can provide effective cleaning and disinfection to bring the home back to safe living conditions with our state-of-the-art cleaning products and equipment.  After all unwanted items and debris are removed, we will help rearrange the remaining items as we restore the home.  Our hoarding cleaning process includes the following steps:
Salvaging valuable items such as money and jewelry
Disposal of unwanted items
Help with the decision of whether to keep, throw away, donate, or recycle individual objects
Delivery of donated items to chosen non-profit organization
Delivery of certain items to friends and family members
Assistance with required paperwork from trusts, attorneys, and government agencies
Hoarding Cleanup Process
Graystone Restoration teamed up with Matt Paxton, host of Hoarders, to develop a new, innovative approach to hoarding cleaning that puts the affected individual in the center of the process.  Before we even enter the home, our technicians work to establish a feeling of trust and respect with the affected individual and once the cleaning process begins, the individual and their family will help create the cleaning plan.  The final decision of what to do with each object is left to the affected individual.  This new hoarding cleaning approach is divided into the following three phases:
Phase 1: Establishing a Personal Connection
We do our best to assess the condition of the home before entering.
We help build feelings of trust and respect with the individual.
We begin the creation of a cleaning plan and if additional help is needed at this stage, we will connect the individual with a counseling professional.
Phase 2: Creating and Implementing the Cleaning Plan
We form a cleaning plan with the help of the individual and their family.
The home is reorganized and disinfected once the unwanted hoarded items are removed.
The affected individual gets the final say on whether an item should be donated, kept, thrown away, or recycled.
Phase 3: Follow Up
Once the home is clean, we create a cleaning plan for the individual to continue maintaining their home.
We follow up on the phone to see if the cleaning plan is being followed and we will return for further cleaning if necessary.
The affected individual is kept in control throughout the cleaning process.
Hoarding is dangerous because it creates conditions in the home that can jeopardize the safety and health of the affected individual and their family.  If you have a friend or family member in the St. Petersburg, FL area that struggles with hoarding issues, reach out to them and contact us for hoarding cleaning services.  You can call Graystone Restoration anytime at (727) 228-7282 to learn more about our hoarding cleaning approach.
---
Related Hoarding Cleanup Services
Hoarding Cleaning Services for Brandon, FL
Hoarding Cleaning Services for New Port Richey, FL
Hoarding Cleaning Services for Clearwater, FL
Hoarding Cleaning Services for Largo, FL
Hoarding Cleaning Services for Palm Harbor, FL
Hoarding Cleaning Services for Tampa, FL
Hoarding Cleaning Services for Wesley Chapel, FL
---
Recent Reviews
---
Review by Trevor Keller
Disaster Restoration
Rating

"Great experience with this company! Nick and the other guys were very professional! Will recommend highly!"
---
Review by Maria Rodriguez
Disaster Restoration
Rating

"Nancy, thank you for giving such a great presentation today. I've alway known your company goes above the rest to make sure the clients are taken care of but now I have a better understanding of each step taken.....Thanks!!!"
---
See All Reviews