Hoarding is a problem that continues to affect many people throughout the Unites States and the behaviors that result from hoarding disorder can create dangerous living conditions that are harmful to the affected individuals and their families.  Fortunately, much more has been understood about hoarding in recent years which has led to more effective cleaning services.  RestorationMaster provides hoarding cleaning services in Wesley Chapel, FL to clean and restore the homes of those that struggle with hoarding.  Our technicians use the most advanced cleaning products and equipment to effectively deep clean the home of hoarders and we take a compassionate and respectful approach that involves the affected individual in the cleaning process.
Hoarding Services in Wesley Chapel, FL
Hoarding disorder is a symptom of anxiety that often leads those who are affected to obsessively collect all types of objects and sometimes animals with a total inability to part with or dispose of anything.  As the hoard of collected items builds, the living conditions inside the home slowly become more dangerous and unhealthy as parts of the home may become blocked off, the risk of a fire rises significantly, and harmful materials including bacteria and mildew could form and cause a range of health issues.  People who struggle with hoarding almost never get help on their own out of embarrassment which makes it important for a friend or family member to help them start the cleaning process and understand the seriousness of the situation.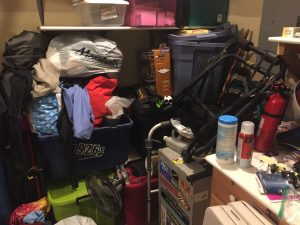 The technicians of RestorationMaster are experienced and certified to handle any hoarding cleaning project using the most advanced cleaning products and equipment available.  We will thoroughly remove unwanted hoarded items and other debris as well as effectively clean, disinfect, and rearrange the remaining items.  Our hoarding cleaning services include the following:
Saving money, jewelry, and other valuables
Disposing of unwanted items and debris
Help determining whether items should be recycled, donated, or thrown away
Delivering donated items to the chosen non-profit organization
Delivering kept items to friends and family members
Help completing paperwork from attorneys, trusts, and government agencies
Hoarding Cleaning from RestorationMaster
RestorationMaster has recently developed a whole new approach to hoarding cleaning in collaboration with Matt Paxton that makes building a relationship with the individual and giving them control in the cleaning central to the process.  In accordance with this new approach, our technicians build a personal connection with the effected individual based on mutual trust and respect and give them the final decision when determining whether an object should be donated, thrown away, or kept.  Our hoarding cleaning services are broken down into 3 phases:
Phase 1: Building a Connection through Trust and Respect
We try to determine the extent of the problem without entering the home.
We work on establishing mutual feelings of trust and respect to build a personal connection.
We start creating a cleaning plan with the help of the individual and their family to clean up the home. At this point, we may also recommend that the individual talks to a professional counselor if it could be beneficial.
Phase 2: Forming a Cleaning Plan
We finalize the cleaning plan with the individual and begin removing unwanted items and debris.
After removing the hoarded items, we will clean, disinfect, and rearrange the rest of the home.
We keep the final decision regarding all objects with the individual so that they have control in the process.
Phase 3: Follow Up
We leave the individual and their family with a realistic cleaning plan to continue maintaining the home.
We call the house to follow up and check to see if they are following the cleaning plan or if they need further cleaning services.
We always keep the affected individual in charge through the whole cleaning process.
Hoarding can have very serious implications not only for the affected individual, but their families living in the home as well.  It is crucial to have a hoarder's home cleaned out before the conditions become too dangerous or unsanitary.  If you know someone who could benefit from our hoarding cleaning services in Wesley Chapel, FL, contact RestorationMaster immediately.
Call for Help
RestorationMaster phone lines are open 24 hours a day at (813) 730-4258 to provide more information about our hoarding cleaning services.
---
Related Hoarding Cleanup Services
Hoarding Cleaning Services for Brandon, FL
Hoarding Cleaning Services for New Port Richey, FL
Hoarding Cleaning Services for Clearwater, FL
Hoarding Cleaning Services for Largo, FL
Hoarding Cleaning Services for Palm Harbor, FL
Hoarding Cleaning Services for St. Petersburg, FL
Hoarding Cleaning Services for Tampa, FL