A fire in a home or business is a horrifying scenario as it can cause extensive damage while putting those inside the home or building at serious risk.  It is important to make sure everyone is safe immediately after a fire. The restoration process must begin right away because soot and corrosive byproducts will cause permanent damage even after the fire is out. Contact a professional disaster restoration company to help you so you can get back to your life as soon as possible.
RestorationMaster provides fire damage restoration services in Wesley Chapel, FL to help homes and businesses recover after a fire.  Our effective cleaning and restoration services, along with our experience with fire damage situations, will result in quality restoration that will restore your peace of mind. Our technicians are IICRC certified and we have advanced equipment and products to speed up the cleaning and restoration process.

Fire Damage Restoration Process
You should not hesitate to start the fire damage restoration process because smoke, soot, chemical emissions, and other corrosive byproducts will spread beyond the area directly affected by the flames and cause damage that will become permanent.  Our technicians are highly trained and have the right cleaning products and equipment to clean up damage caused by tarnishing and etching and repair structural elements and furnishings that have been damaged.  We can also restore several at-risk household surfaces such as tile, aluminum, porcelain, marble, chrome, brass, carpet, and upholstery using specific chemical combinations.  You should not try to clean up soot damage yourself because doing so improperly can worsen the damage.
Along with fire damage, there are usually water damage to the house as well because firefighters use water to put out the fire. We can also help you if the property needs any water damage repair services.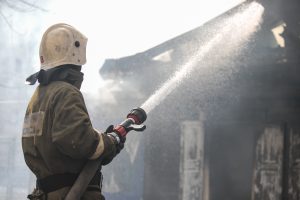 The following steps are included in our fire damage restoration process:
Emergency pre-cleaning
Content cleaning
Content pack-out
Wall and ceiling structure cleaning
Odor removal
It can be very overwhelming to have to deal with a fire but it is important to call for fire damage restoration as soon as possible to avoid permanent damage.  RestorationMaster is experienced and equipped to handle all cases of fire damage for homes and businesses in Wesley Chapel, FL.
Contact Us
You can reach RestorationMaster 24 hours a day at (727) 227-7282 for emergency fire damage restoration services in the Wesley Chapel, FL area.
---
Related Fire Restoration Services
Fire Damage Restoration in St. Petersburg, FL
Fire Damage Repair in Largo, FL
Fire Damage Cleanup in New Port Richey, FL
Fire Damage Restoration in Clearwater, FL
Fire Damage Restoration Palm Harbor, FL
Fire Damage Repair Brandon, FL
Fire Damage Restoration in Tampa, FL