Fires in a home or building can be a traumatic experience but knowing how to react in these scenarios can help you keep yourself safe and prevent extensive damage to your property.  After a fire is extinguished, the damage will keep spreading as soot and corrosive byproducts continue to settle throughout the home and if the restoration does not begin soon enough, the etchings can become permanent.
ServiceMaster 24 Hour provides fire damage restoration services in Largo, FL to repair and restore homes and businesses that have been damaged in a fire.  Our thorough understanding and execution of the fire damage restoration process will help restore your peace of mind as well as your home.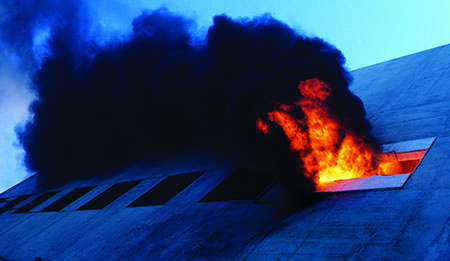 Fire Damage Restoration Process
Beginning the restoration process as soon as the fire is extinguished is important to help contain the damage as well as clean and restore the structural elements and furnishings in your home before the damage becomes permanent.  After the fire, soot and chemical emissions from burned synthetic materials continue to spread damage such as tarnishing and etching and if the affected surfaces are not restored within a few days, the etching will become unsalvageable.
Our technicians have the right training, cleaning products, and equipment to remove etching and soot damage as well as repair structural elements and furnishings damaged by the fire.  The specialized chemical combinations that we use to remove soot damage are safe and effective for a range of household services including chrome, brass, marble, aluminum, porcelain, tile, carpet, and upholstery.  It is best to let our professionals clean up soot damage because attempting to cleanup soot with improper methods will compound the problem.
You can expect the following steps in our fire damage restoration process:
Emergency pre-cleaning
Content cleaning
Content pack-out
Wall and ceiling cleaning
Odor removal
The damage from a fire will become unsalvageable in as little as 72 hours after the fire is extinguished so make sure you call ServiceMaster 24 Hour immediately if your home or building in Largo, FL has been affected by fire.  We work quickly to get the building cleaned up and restored using the most advanced equipment available in the industry.
Our phone lines are open 24 hours a day at (727) 228-7282 to provide a quick response to fire damage emergencies in Largo, FL
---
Related Services
Emergency Fire Damage Repair Tampa FL­
Fire Damage Restoration Experts St. Petersburg FL
Fire Damage Remediation New Port Richey FL
Fire Damage Company Wesley Chapel FL
Fire Damage Removal Clearwater FL
Fire Damage Contractor Palm Harbor FL
Fire Damage Cleaners Brandon FL
May 11, 2019
I like how professional both Joe and Manny were. They both did an outstanding job with my flooring issues, but more they went out of their way to help me adjust to everything. They both made sure that I was comfortable and had safe access through the house, as my furniture had to be moved out of my bedroom and into my living room. Having a small apartment meant I was limited to a small space during the restoration process. They set up my tv so I could watch while camped out in the living room and then again in my bedroom when I could move back in. They didn't have to do that but this was an example of how they extended such quality consideration for me. I also like how closely your company monitors the progress on a daily basis. I feel that by having such fast attention to my disaster, your company saved my wood flooring and certainly removed the water from my carpet, without the potential for mold to set in. Great work!