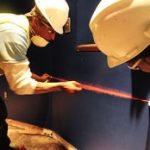 No one is really prepared to discover a trauma scene, let alone deal with the aftermath. Not only is it emotionally devastating, but it's physically dangerous. Biohazards like bodily fluids and tissue can easily spread disease and infection if not handled properly. It's illegal to throw these items in ordinary trash and this type of cleanup is more than most people can deal with, emotionally. ServiceMaster 24 Hour provides confidential, comprehensive trauma scene and biohazard cleanup services to residential and commercial clients in Largo, FL. Our technicians are available day or night, 7 days a week, to clean and sanitize your home or business so it's safe to occupy again.
Trauma scene cleanup situations differ from other restoration projects in many ways. Commercially available cleaning products and equipment aren't strong enough to clean and sanitize the area so it's safe for human occupation. The site may also be an active crime scene, and moving even the smallest item can jeopardize the investigation. Even the thought of cleaning the aftermath is often more emotionally draining than people can imagine. The professionals at ServiceMaster 24 Hour have the equipment and experience to safely restore trauma scenes without getting in the way of a criminal investigation. We remove all biohazard materials in approved containers for legal disposal at a certified facility.
We respond to residential and commercial trauma scene restoration calls in Largo, FL quickly and discreetly.  Our technicians work in full cooperation with law enforcement and we approach projects with compassion and consideration. If necessary, we'll help connect family and friends with trained counselors to help them come to terms with the situation. At ServiceMaster 24 Hour, we always keep in mind that there are people and emotions behind these restoration calls.
If you discover a trauma scene at your home or business in Largo, FL, don't attempt to clean it yourself. Call 911, then contact the caring professionals at ServiceMaster 24 Hour day or night, 7 days a week, at (727) 228-7282. We'll arrive quickly to clean and sanitize the area and remove all biohazardous materials safely and legally without getting in the way of law enforcement. There are so many things that only you can manage at a time like this. Let us do this task for you.
---
Related Services
Hazardous Cleaning Services Tampa FL
Bio Clean up St. Petersburg FL
Crime Scene Cleaning Company New Port Richey FL
Hazmat Cleanup Wesley Chapel
Biohazard Removal Company Clearwater FL
Hazmat Cleanup Company Palm Harbor FL
Waste Cleanup Company Brandon FL
May 11, 2019
I like how professional both Joe and Manny were. They both did an outstanding job with my flooring issues, but more they went out of their way to help me adjust to everything. They both made sure that I was comfortable and had safe access through the house, as my furniture had to be moved out of my bedroom and into my living room. Having a small apartment meant I was limited to a small space during the restoration process. They set up my tv so I could watch while camped out in the living room and then again in my bedroom when I could move back in. They didn't have to do that but this was an example of how they extended such quality consideration for me. I also like how closely your company monitors the progress on a daily basis. I feel that by having such fast attention to my disaster, your company saved my wood flooring and certainly removed the water from my carpet, without the potential for mold to set in. Great work!