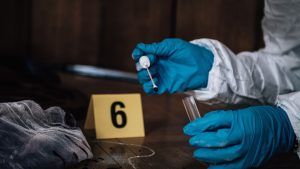 Trauma scenes are among the most devastating things a person can encounter. They take a toll emotionally and are physically dangerous, even though it might seem that the danger is over. Blood, tissue and other bodily fluids can spread disease and infection without proper handling and protective equipment. Trauma scenes are often crime scenes and must be treated carefully, or valuable evidence can be destroyed. A trauma scene cleanup project should never be attempted on your own; commercially available cleaners aren't strong enough to clean and sanitize the area and it's illegal to dispose of biohazardous materials in household trash. Graystone Restoration provides high quality trauma scene cleanup services to residential and commercial clients in Palm Harbor, FL, 7 days a week.
Biohazard Cleanup Process
Our highly trained professionals have the equipment and experience to thoroughly clean and sanitize trauma scenes and remove all traces of biohazards in a discreet and compassionate manner. All biohazardous materials are removed from the scene and transported in approved containers to a certified facility for legal disposal. At Graystone Restoration, we use only the most powerful and effective cleaners and equipment in the industry to clean and sanitize, so the area is safe for human habitation.
We keep in mind at all times that these projects can be highly emotional for loved ones, so we treat our clients with respect and compassion at all times. If necessary, we can help family and friends connect with trained counselors who can help them come to terms with the situation. We work in full cooperation with law enforcement during the entire cleanup process so our work won't jeopardize their work. We do our job as quickly and discreetly as possible.
Call for Help
If you find a trauma scene at your home or business in Palm Harbor, FL, it's important to leave the area immediately without touching anything. It's impossible to know what might be contaminated with biohazards, or what might be important to an investigation. Once the authorities have given you permission, call Graystone Restoration day or night, 7 days a week, at (727) 228-7282. Our experts will arrive quickly and discreetly to begin the cleanup process so you can attend to other, more pressing matters.
---
Related Biohazard Cleanup Services
Biohazard Cleaning in St. Petersburg, FL
Biohazard Cleanup in Largo, FL
Biohazard Cleaning in New Port Richey, FL
Biohazard Cleaning Services Wesley Chapel, FL
Blood Cleanup Company Clearwater, FL
Biohazard Remediation Brandon, FL
Biohazard Cleanup in Tampa, FL
---
Recent Reviews
---
Review by Trevor Keller
Disaster Restoration
Rating

"Great experience with this company! Nick and the other guys were very professional! Will recommend highly!"
---
Review by Maria Rodriguez
Disaster Restoration
Rating

"Nancy, thank you for giving such a great presentation today. I've alway known your company goes above the rest to make sure the clients are taken care of but now I have a better understanding of each step taken.....Thanks!!!"
---
See All Reviews