If you are suffering from water, storm or flood damage, RestorationMaster provides professional water restoration services to homes and businesses in the Brandon, FL.
The disaster restoration services include the following:
Water damage restoration
Flood damage restoration
Fire damage repair
Mold removal and mold remediation
Content cleaning and pack-out services
Construction services
Hoarding cleanup services
Biohazard cleaning
Storm damage cleanup
RestorationMaster has staff from all backgrounds, but we all strive to provide the best services to people in need. Our business values honesty and integrity and we conduct business with both values in our minds.
Our IICRC-certified technicians receive weekly trainings and attend annual continuing education (CE) courses in the disaster restoration industry to stay updated on the last techniques and trends to bring you the highest quality services. Each year, all of the staff members also undergo background checks so you can trust us when we are working on your property. We know in a disaster, the speed and the quality of the restoration process is very important, that is why we will start right away when you give us a call.
RestorationMaster is available 24 hours at (813) 730-4258 for emergency disaster restoration in Brandon, FL and the surrounding areas.
Water is a common cause of damage in a home or business because it comes from so many sources. Broken pipes, leaking hoses and heavy rain are all common causes of water damage. Building materials like drywall and wood soak up water and allow it to spread if the source of the water isn't found and cleaned up quickly. Mold begins to grow in flooded areas, causing health problems and more structural damage. That's why it's vital to call professionals at the first sign of water damage. RestorationMaster provides water damage restoration services to residents of Brandon, FL. We'll be on the scene fast to remove the water and repair the damage. Excess water is not a problem that will go away on its own, so call our experts 24 hours a day, 7 days a week, any time there's excess water in your home or business.
When it comes to in-home disasters, flooding is one of the most damaging because standing water affects just about anything in its path.  All types of flooring, wood, drywall, and insulation are porous and absorbing large amounts of water can cause these materials to become weak.  Wet furnishings and structural elements are also susceptible to mold growth which can multiply the damage and affect your health.  RestorationMaster provides flood damage restoration services to help flooded homes and businesses in Brandon, FL.  Our advanced equipment can handle the complete extraction of standing flood water and we will also dry affected furnishings and materials to prevent mold growth.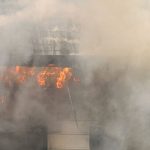 The smoke and flames from fires are dangerous to both people and property, but only property continues to be at risk after the fire is out. Soot and chemicals from fighting the fire can etch and tarnish household surfaces like porcelain, chrome and brass, and unless cleanup is started quickly, the damage can become permanent. RestorationMaster offers fire restoration services to residents of Brandon, FL who have experienced a fire at their home or business. Our professionals use the best cleaners and equipment in the industry to safely remove harmful byproducts before they can cause further damage to expensive surfaces.  We'll clean the aftermath and help repair and restore the damage.
Mold spores are a part of nature; without it, we wouldn't have yogurt or some cheeses. They can grow anywhere that has the right humidity and a food source like wood or drywall. Mold grows quickly and spreads just as fast, so it's important to take action as soon as you see it. Mold removal isn't a project for the do it yourselfer. Without the right protective equipment, mold exposure can cause respiratory illness and aggravate allergies. Commercially available cleaners aren't tough enough. The technicians at RestorationMaster have the training, equipment, and protective gear to provide full mold remediation services in Brandon, FL if the affected area is 10 square feet or smaller. We effectively contain larger areas before recommending environmental testing to measure the contamination.
Disasters affect not only your buildings, but your furnishings and personal property too. It's important to start the cleanup process as soon as possible to limit the damage and get life back to normal quickly. Before you decide something is beyond salvaging, call the professionals at RestorationMaster. Our experts have specialized training in content cleaning and restoration, as well as the best equipment and products. Call us if you experience any kind of disaster in Brandon, FL. We'll clean and restore your belongings that have been damaged on-site, if the damage is light enough and/or the building is stable enough. If necessary, we will carefully pack-out your items to our secured facility, where they will be carefully inventoried, thoroughly cleaned and restored, and returned.
The next step after cleanup is rebuilding, and RestorationMaster provides complete construction services to repair the parts of your home or business that need to be rebuilt in Brandon, FL. Our professionals have the experience and equipment to provide full general contractor services, remodeling, and building stabilization for homes, multi-tenant buildings, retail stores, and large commercial and industrial buildings. We schedule and plan the entire project, obtain the necessary permits, and manage the entire project through to completion. Call us if a disaster has rendered parts of your home or business unusable, and we'll be happy to discuss the necessary steps and a timetable.
Hoarding isn't simply lazy housekeeping; it's an anxiety disorder characterized by a person's inability to throw away things. Items pile up over time, blocking access to parts of the home and causing health hazards from dust, animal droppings and mold. RestorationMaster provides cleanup services to residents in Brandon, FL who are affected by hoarding. We utilize a technique developed by RestorationMaster and Matt Paxton, founder of Clutter Cleaner and an expert on A&E's "Hoarders". We treat the hoarder with compassion and respect and work together to sort through items and decide what to keep, donate or throw away. We remove the items, deliver them to their destinations, then clean and disinfect the home and make sure it's safe for people and animals again.
Encountering or witnessing a violent crime or accident that results in a serious injury or death is a horrific experience.  These scenes also involve biohazard materials that can spread infection or disease if they are not cleaned up properly.  After calling 911 for the police and EMTs to respond to the scene, you must call a restoration professional with a license to clean up biohazard materials.  RestorationMaster provides biohazard and trauma scene cleaning services in Brandon, FL to clean up biohazard materials and thoroughly disinfect the scene.  We also understand the emotional implication of these situations and take a compassionate and respectful approach.
Sometimes it does not take long for a storm to move in and ruin a nice day and if a severe storm occurs unexpectedly, there is a good chance it could result in property damage.  Strong wind is especially dangerous because it can damage the siding, windows, and roof as well as blow over trees and utility poles that can make the damage much worse.  RestorationMaster provides complete storm damage restoration services to rebuild damaged homes and businesses in Brandon, FL and clean up the property.  We will make sure your home or building is rebuilt to its previous state and remove all natural and non-natural debris left behind by the storm.
Any time a disaster occurs, insurance agents are usually on the scene as soon as the dust settles, assessing the damage and taking care of any immediate needs. Smartphones and mobile hotspots allow them to start the claims process even faster. RestorationMaster offers a variety of continuing education (CE) classes for insurance agents in the Brandon, FL area. These classes are free and cover each of our main restoration services. We offer these classes so agents can better understand the restoration process. Agents who have a thorough understanding of the process can give their clients better claims service. We work with many area insurance agents and believe our partnership works best when everyone is familiar with our procedures.
Recovering from a natural disaster is expensive, and an excellent reason to have insurance. Restoration costs are typically covered under a homeowner's policy. Unfortunately, some homeowner's insurance policies don't cover certain damages, leaving you to pay for the rest yourself. RestorationMaster offers their FlexServ program for customers who have damage in Brandon, FL that's not covered by their insurance, or who choose not to file a claim. It's designed to help keep restoration costs low with a combination of equipment rentals and additional professional assistance so you can do much of the work yourself.
Contact Us
Call RestorationMaster for 24/7 response to any emergency disaster restoration at (813) 730-4258 in Brandon, FL and the surrounding areas.
---
Related Disaster Restoration Services
Disaster Restoration and Cleaning in Tampa, FL 
Disaster Restoration and Cleaning in Largo, FL 
Disaster Restoration and Cleaning in Wesley Chapel, FL 
Disaster Restoration and Cleaning in St. Petersburg, FL 
Disaster Restoration and Cleaning in Clearwater, FL 
Disaster Restoration and Cleaning in Palm Harbor, FL
Disaster Restoration Services in New Port Richey, FL