Mold spores are in the air all around us and for the most part, they don't cause trouble. However, spores in an area with high humidity and a food source like wood or drywall will quickly spawn and grow into a full mold colony. In as little as 48 hours, mold can grow and keep growing until it's stopped. It's more than just a blemish on a wall; mold damages household surfaces and causes respiratory problems. For someone who already has a respiratory condition or compromised immune system, it could become dangerous.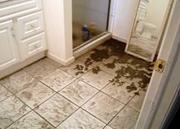 ServiceMaster 24 Hour provides mold remediation services to clients in Brandon, FL to remove mold growth from areas of 10 square feet or less. Our technicians have the cleaning products and equipment to safely and effectively remediate mold within this size, and we work with a national environmental services company that can test for and remove mold from larger areas. This is not a DIY job; without proper training and protective gear, mold can be spread and you can become seriously ill.
At ServiceMaster 24 Hour, our technicians are fully trained in the best, most effective mold remediation techniques. We provide consistent service and offer all of our clients:
A detailed remediation plan
Standardized line item descriptions
Pricing guidelines for your area
We provide comprehensive mold remediation to customers in Brandon, FL for isolated contaminations within a 10 square foot space or less that don't require additional expensive testing. For larger areas of contamination, we'll isolate the area, contact your insurance company and recommend an environmental testing service to handle the remediation. ServiceMaster 24 Hour works with a national environmental services company that provides mold testing and inspection, lab analysis, and quality mold remediation services at a reasonable price.
If you find mold growing in your home or business in Brandon, FL, call the professionals at ServiceMaster 24 Hour immediately. We have the knowledge and equipment to handle small mold remediation jobs, and we can isolate and contain larger infestations until a national environmental services company can arrive.
Call us 24 Hours a Day, 7 Days a Week at (813) 518-8555 to Stop the Mold Before it Can Spread
---
Related Services
Mold Removal Tampa FL
Mold Remediation St. Petersburg FL
Black Mold Removal Largo FL
Mold Cleanup New Port Richey FL
Mold Removal Companies Wesley Chapel FL
Mold Abatement Clearwater FL
Mold Removal Services Palm Harbor FL
May 11, 2019
I like how professional both Joe and Manny were. They both did an outstanding job with my flooring issues, but more they went out of their way to help me adjust to everything. They both made sure that I was comfortable and had safe access through the house, as my furniture had to be moved out of my bedroom and into my living room. Having a small apartment meant I was limited to a small space during the restoration process. They set up my tv so I could watch while camped out in the living room and then again in my bedroom when I could move back in. They didn't have to do that but this was an example of how they extended such quality consideration for me. I also like how closely your company monitors the progress on a daily basis. I feel that by having such fast attention to my disaster, your company saved my wood flooring and certainly removed the water from my carpet, without the potential for mold to set in. Great work!