Mold spores are a natural part of the environment and because of this, they are a threat to form into mold growth at any time. Usually, mold is more likely to grow after your property has suffered from water damage. Moisture is the biggest cause of mold growth and within 48 hours of an increase in moisture due to water damage or high humidity, mold can start growing in your home and it will spread until it is removed.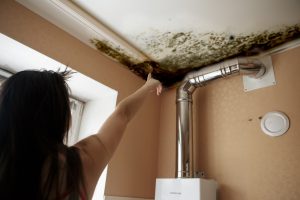 RestorationMaster provides mold remediation services in Tampa, FL to remove mold from residential and business properties. Our technicians have the right equipment to handle mold remediation and we work with third party testing agencies to develop mold removal plans case by case to provide you with the best services.
When you are facing a mold problem, it is our goal to provide well-informed and competent services to remove mold from your home. Mold growth can eventually destroy the surfaces it grows on beyond repair and it also contributes to adverse health conditions such as allergies and respiratory infections.
Mold Remediation Process
We work with a third-party mold testing agency to test for air quality and to come up with a protocol for mold remediation so we can make sure all the mold are completely gone. After the procedure is set up, we can start the mold remediation process. The IICRC certified technicians of RestorationMaster are highly trained to handle mold removal and we will report our findings to your insurance company. You can expect the following from our mold removal professionals:
Technicians who have received comprehensive training in mold removal
Detailed operational procedures
Consistent service
Standardized line item descriptions
Pricing guidelines for your region
If your property needs pack-out services or water damage restoration in addition to mold removal, we can also take care of your needs.
Mold Cleanup – What to Do:
Call RestorationMaster right away to prevent the mold from spreading further.
Close all windows when it is raining outside.
Always wear protective equipment, such as a mask, gloves, and eye wear when dealing with mold.
Turn on the fans and dehumidifier to air out the property and absorb the moisture.
Dry off unaffected walls on the property to prevent damage from spreading. However, do not touch the affected walls.
Mold Remediation – What NOT to Do:
Never try to clean the mold yourself. This could only irritate it and cause it to spread further. In addition, if not handled properly, the spores can become inhaled, causing severe illness.
Do not touch the mold. Many kinds of molds can be toxic to humans.
Do not put a fan into direct contact with mold.
Do not cover any surfaces affected by mold.
If you find mold growing in your home or building in Tampa, FL, contact RestorationMaster immediately for mold removal services. We have the training and equipment to remove mold contaminations as well as helping you with other disaster restoration services.
Contact Us
You can call RestorationMaster anytime at (813) 730-4258 for more information about our mold removal services.
---
Related Mold Remediation Services
Mold Remediation in St. Petersburg, FL
Mold Removal in New Port Richey, FL
Mold Remediation in Wesley Chapel, FL
Mold Removal Services in Clearwater, FL
Mold Remediation in Palm Harbor, FL
Mold Removal in Largo, FL
Mold Removal Services in Brandon, FL