(727) 228-7282
Mold occurs naturally in our environment but when it starts growing in a home or building, it can cause significant property damage and even lead to adverse health reactions. Water damage is one of the main triggers of mold growth as the spores only need moisture and an organic food source to form into mold and this can happen within just 48 hours of the initial water damage or increase in humidity.
ServiceMaster 24 Hour provides mold removal services to clean up and remove mold from affected areas of ten square feet or less in New Port Richey, FL. We can provide full remediation services for mold growth within this surface area as well as isolate larger contaminations and refer a national environmental services company to handle the remediation.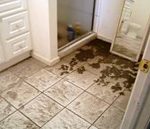 Mold growth can be a tricky problem to deal with and our technicians are well trained and informed when it comes to mold remediation to provide competent and effective services. Mold growth must be dealt with immediately because it will continue to spread and eventually destroy organic surfaces and it can also contribute to health problems such as allergies and infection from exposure.
Our technicians have the training and equipment to completely remove mold growth within spaces of ten square feet or less and we will inform your insurance company on our findings. The following are included in our mold remediation process:
Highly trained and knowledgeable technicians
Detailed operational procedures
Consistent service
Standardized line item descriptions
Price guides for each region
The mold remediation services from ServiceMaster 24 Hour are the most effective for mold contaminations that are isolated within a 10 square foot space in which additional testing is not needed. For mold contaminations that affect an area larger than 10 square feet, we will isolate the mold growth, provide a report of the damage to your insurance company, and refer you to an environmental testing service that can deal with the problem more effectively. We have a partnership with an environmental service company that provides mold testing, lab analysis, and full mold remediation services at an affordable price.
You should never ignore mold growth or hesitate to act once it is discovered because it will continue to spread and cause damage until it is removed from the building. If there is mold growing in your home or business in New Port Richey, FL, call ServiceMaster 24 Hour to assess and contain the damage. We will provide complete mold remediation for contaminations within 10 square feet and we can refer you to a trusted partner to provide mold remediation for larger contaminations.
Our phone lines are open 24 hours a day at (727) 228-7282 to respond to mold remediation needs in New Port Richey, FL
---
Related Services
Mold Removal Specialists Tampa FL
Basement Mold Removal St. Petersburg FL
Mold Abatement Specialists Largo FL
Mold Cleaning Service Wesley Chapel FL
Home Mold Remediation Clearwater FL
Mold Removal Specialist Palm Harbor FL
Mold Damage Repair Brandon FL
June 7, 2019
I am extremely happy with ServiceMaster. The came quickly to help restore my home that was damaged from a leaking hot water pipe. Shaun was here to assess quickly and create a plan. The Jose and Devario were here quickly to implement it. Jose and Devario came every day on water in my walls. They were prompt and courteous. If I ever need restoration services I will call Servicemaster and request the same technicians.
May 11, 2019
I like how professional both Joe and Manny were. They both did an outstanding job with my flooring issues, but more they went out of their way to help me adjust to everything. They both made sure that I was comfortable and had safe access through the house, as my furniture had to be moved out of my bedroom and into my living room. Having a small apartment meant I was limited to a small space during the restoration process. They set up my tv so I could watch while camped out in the living room and then again in my bedroom when I could move back in. They didn't have to do that but this was an example of how they extended such quality consideration for me. I also like how closely your company monitors the progress on a daily basis. I feel that by having such fast attention to my disaster, your company saved my wood flooring and certainly removed the water from my carpet, without the potential for mold to set in. Great work!