Water damage can turn into a significant problem no matter how much water there is, but flooding can cause devastating damage right off the bat.  Excessive water in a home or building can cause serious structural damage by getting absorbed in the walls, flooring, and other building materials.  Heavy rain, natural flooding, overflows, and sewage backups are common causes of indoor flooding which must be dealt with immediately.  Graystone Restoration provides flood damage restoration in New Port Richey, FL to remove the water and restore the resulting damage.  Our advanced equipment allows us to remove standing flood water as well as thoroughly dry the area to prevent mold.
Flood Cleanup Services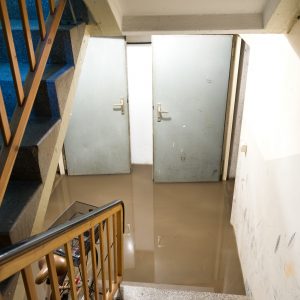 Flooding causes damage much quicker than typical water damage because it spreads quickly through porous building materials.  Wood, drywall, flooring, and insulation absorb water which leads to buckling, warping, and weakening of the materials.  The presence of standing water also greatly increases the chance of mold or mildew growth.  Our technicians use advanced water extraction equipment to remove the flood water and dry the affected area.  We also thoroughly clean and disinfect the area and help repair the structural damage if necessary.
Our complete flood damage restoration services include these steps:
Initial Inspection: We will do a thorough inspection to determine the scope of the flooding and create an appropriate restoration plan based on our findings.
Advanced Equipment: We have the best water extraction and drying equipment of the industry to effectively handle any case of indoor flooding.
Complete Drying: Our drying and dehumidification equipment can extract all excess water or moisture from the structural elements, furnishings, and air spaces in your home.
Odor Removal: Water and mold can leave behind musty odors. We can eliminate these odors effectively and disinfect the area.
Flood Damage Caused by Sewage
If you have significant flooding in your home, there is a chance that it could contain sewage.  Flood water from heavy rain can pick up sewage water before it enters your home and a sewage backup can also flood your home.  Sewage water often consists of bacteria, waste, and other dangerous toxins that can spread disease or infection to those who come into contact.  The professionals of Graystone Restoration can safely and effectively remove sewage water and restore the area with our advanced equipment and cleaning products.  We will keep the damage contained and make sure the area is thoroughly disinfected to prevent ill health effects.
You should never hesitate to act when there is flooding in your home or office. Make sure you call Graystone Restoration for flood damage restoration if your home or business in New Port Richey, FL has been affected.  We will not only ensure that all water and moisture is removed, but also disinfect the area to make it safe again.  Our phone lines are open 24 hours a day at (727) 228-7282 to provide emergency flood damage restoration in New Port Richey, FL.
---
Related Flood Cleanup Services
Flood Damage in St. Petersburg, FL
Flood Damage Cleanup in Tampa, FL
Flood Cleanup Services in Largo, FL
Flood Damage Repair in Wesley Chapel, FL
Flood Damage Restoration in Clearwater, FL
Home Flooding Service in Palm Harbor, FL
Flood Cleanup Services in Brandon, FL
---
Recent Reviews
---
Review by Trevor Keller
Disaster Restoration
Rating

"Great experience with this company! Nick and the other guys were very professional! Will recommend highly!"
---
Review by Maria Rodriguez
Disaster Restoration
Rating

"Nancy, thank you for giving such a great presentation today. I've alway known your company goes above the rest to make sure the clients are taken care of but now I have a better understanding of each step taken.....Thanks!!!"
---
See All Reviews