2017 was such an amazing year for all of our Complimentary CE classes! We can't thank everyone enough for joining us throughout the year. A special thank you goes out to our AMAZING instructors, ServiceMasters very own Tom Pitt and also Tony Becerra who teaches our annual Law & Ethics course. We also couldn't achieve the success we've had without our partners: Enterprise, ServiceKing Collision, and Safelite Autoglass. We are currently working on a class schedule for 2018 and are so excited for what next year will bring! 2017 classes are finished for the year, but keep in contact for next year's schedule!



ServiceMaster 24 Hour proudly works with local insurance agents and adjusters in New Port Richey, FL to help provide our clients with accurate claims assistance and pricing for our services. We have been working closely with insurance companies since we began business and in order for these insurance agents to provide the best possible service, they must understand the processes involved with disaster restoration services. ServiceMaster 24 Hour provides CE classes for insurance agents and adjusters in New Port Richey, FL that cover the methods for each of our main disaster restoration services. These classes are meant to educate local insurance agents on the exact steps involved in our disaster restoration services so that they can provide accurate claims and pricing for our clients.
ServiceMaster CE Classes
Insurance agents have the option of attending our CE classes at our Tampa, FL location or having a Lunch & Learn at their own location. For Lunch & Learns, our technicians will teach the class at your office in one hour increments and provide lunch but there must be at least 6 attendees for this to happen. The classes we offer at our location generally last 3 to 5 hours and we will provide a complimentary lunch or refreshments as well.
Our CE classes cover a range of topics including smoke and odor mitigation, mold remediation, ethics and law, water damage mitigation, mitigating personal property pack-out, flood insurance, and furniture damage and restoration among others. These classes are taught by our trained technicians and trusted partners and they count for state approved CE credits which are required for insurance agents and adjusters. There is no fee to attend these classes but you must register in advance to reserve a spot because space is limited.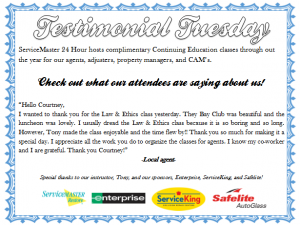 Through our CE classes, we make sure that our partners in the insurance industry are educated in our most up to date cleaning and restoration methods to provide more accurate claims assistance for our clients. You can view our CE class schedule on our main website as well as register for classes to reserve your spot.
You can reach us at (727) 228-7282 to learn more about our available CE classes for insurance agents in the New Port Richey, FL area.
June 7, 2019
I am extremely happy with ServiceMaster. The came quickly to help restore my home that was damaged from a leaking hot water pipe. Shaun was here to assess quickly and create a plan. The Jose and Devario were here quickly to implement it. Jose and Devario came every day on water in my walls. They were prompt and courteous. If I ever need restoration services I will call Servicemaster and request the same technicians.
May 11, 2019
I like how professional both Joe and Manny were. They both did an outstanding job with my flooring issues, but more they went out of their way to help me adjust to everything. They both made sure that I was comfortable and had safe access through the house, as my furniture had to be moved out of my bedroom and into my living room. Having a small apartment meant I was limited to a small space during the restoration process. They set up my tv so I could watch while camped out in the living room and then again in my bedroom when I could move back in. They didn't have to do that but this was an example of how they extended such quality consideration for me. I also like how closely your company monitors the progress on a daily basis. I feel that by having such fast attention to my disaster, your company saved my wood flooring and certainly removed the water from my carpet, without the potential for mold to set in. Great work!