Property damage can cost you in so many ways from losses to the cost of the restoration.  Natural disasters such as fires, mold growth, and flooding can cause extensive damage in your home and the cost of restoration may get pricey depending on how far the damage spreads.  Property losses and restoration costs are generally covered by homeowner's insurance policies but if your policy does not cover the specific type of damage, that leaves you responsible for covering the costs.  Graystone Restoration offers service options through our FlexServ program for homeowners in New Port Richey, FL if your insurance policy does not cover the damage or if you choose not to file a claim.  Through this program, we provide equipment rentals as well as additional professional assistance for a lower overall restoration cost.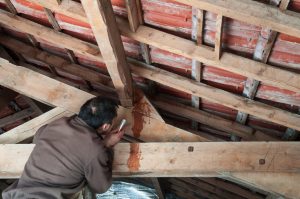 Our technicians start by meeting with those interested in our FlexServ program to help form a service plan and choose options that will get the job done effectively.  We will recommend equipment rentals based on the damage and help determine the level of assistance necessary to get the job done at a reasonable cost.  Our professionally trained technicians will be available throughout the restoration process to offer advice and assistance to help you complete the job.
The levels of service that we offer through our FlexServ program include:
Bronze: Water and drying equipment rental, inspection of the equipment before and after use
Silver: Water extraction, anti-microbial treatment, and carpet padding removal as well as services of Bronze level
Gold: Equipment delivery and set-up, equipment pick-up, and professional moisture readings as well as services from Bronze and Silver level.
You get the following benefits when you choose the FlexServ program instead of a typical rental facility:
Help choosing the right equipment from our professionals
Use of professional grade equipment
Equipment that is maintained between rentals
Delivery and set-up of equipment
Planning and assistance from our technicians
If you experience damage in your home in New Port Richey, FL that is not covered by your homeowner's insurance policy, contact Graystone Restoration to discuss our FlexServ program.  We help form service plans that involve equipment rental and additional assistance to keep the cost of the restoration low.  Our phone lines are open 24 hours a day at (727) 228-7282 to talk about your FlexServ options.
---
Related Drying Equipment Rental Programs
FlexServ Program in Brandon, FL
FlexServ Program in Clearwater, FL
FlexServ Program in Largo, FL
FlexServ Program in Palm Harbor, FL
FlexServ Program in St. Petersburg, FL
FlexServ Program in Tampa, FL
FlexServ Program in Wesley Chapel, FL
---
Recent Reviews
---
Review by Trevor Keller
Disaster Restoration
Rating

"Great experience with this company! Nick and the other guys were very professional! Will recommend highly!"
---
Review by Maria Rodriguez
Disaster Restoration
Rating

"Nancy, thank you for giving such a great presentation today. I've alway known your company goes above the rest to make sure the clients are taken care of but now I have a better understanding of each step taken.....Thanks!!!"
---
See All Reviews