The damage caused by a natural disaster can be a huge financial burden from the loss of property to the cost of the restoration.  It is possible for flooding, mold growth, and fires to cause extensive property damage and if the particular damage is not covered under your homeowner's insurance policy, you are left to pay the costs yourself.  RestorationMaster offers the new FlexServ program developed by RestorationMaster to help homeowners in Wesley Chapel, FL who choose not to file a claim or who are dealing with damage not covered by their insurance.  This program is designed to keep the cost of restoration services low with equipment rentals and additional professional assistance. The special program covers dehumidifier rental, air scrubber rental, air mover rental, drying equipment rental, water damage equipment, water removal equipment.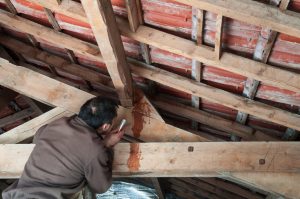 Our technicians at RestorationMaster will assess the damage in your home and help you form a service plan with our FlexServ options that will best cover your damage.  We will help you choose from our selection of professional grade equipment for rentals and decide on the amount of professional assistance you will need to complete the job.  The plan is formed with your budget in mind to keep the cost at an acceptable level and our technicians will be available to you for assistance as you complete the restoration.
The following service are offered through our FlexServ program:
Bronze: Rental of water and drying equipment, inspection of the equipment pre and post rental
Silver: Removal of carpet padding, water extraction, and anti-microbial treatment as well as services included in Bronze level
Gold: Delivery and set-up of rental equipment, equipment pick-up, and professional moisture readings as well as services included in Bronze and Silver levels
Our FlexServ program offers the following advantages over a rental facility:
Help choosing equipment rentals from our experts
State-of-the-art equipment
Equipment well maintained between rentals
Delivery and set-up of equipment
Planning and assistance from our experienced technicians
If your home in Wesley Chapel, FL has sustained damage from a natural disaster that is not covered by your homeowner's insurance, contact RestorationMaster to learn more about our FlexServ options.  We will help you form an affordable restoration plan involving equipment rentals and a level of professional assistance if the damage is not covered by your insurance or if you choose not to file.
Contact Us
You can call us 24 hours a day at (813) 730-4258 for more information.
---
Related Drying Equipment Rental Programs
FlexServ Program in Brandon, FL
FlexServ Program in Clearwater, FL
FlexServ Program in Largo, FL
FlexServ Program in New Port Richey, FL
FlexServ Program in Palm Harbor, FL
FlexServ Program in St. Petersburg, FL
FlexServ Program in Tampa. FL