If you are suffering from water, storm or flood damage, RestorationMaster provides professional water restoration services to homes and businesses in the Wesley Chapel, FL area.
Water damage should never be taken lightly but flooding especially should be addressed immediately to help prevent significant damage.  Flood water can quickly damage walls, flooring, and furnishings and it gets absorbed into various building materials which can lead to structural damage.  Indoor flooding is typically caused by wet weather conditions including rain and floods as well as internal factors such as overflows and sewage backups.  RestorationMaster provides flood damage restoration services to help homes and businesses in Wesley Chapel, FL that have experienced significant indoor flooding.  We can remove flood water with our advanced water extraction equipment and clean and restore the area to its original condition.
Flood Cleanup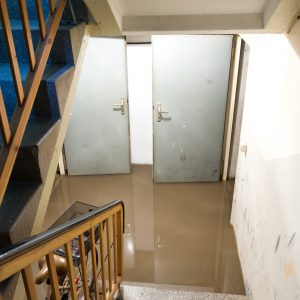 Indoor flooding can quickly cause severe damage because many of the building materials in a home or building are porous.  The water can spread through wood, drywall, flooring, and other materials where it can cause structural damage, discoloration, and warping.  Flooded homes and buildings are also vulnerable to mold growth because the excess moisture makes it more likely to form.
Our professionals at RestorationMaster can remove large amounts of standing water with our water extraction equipment and make sure that the affected area is thoroughly dried.  If the flood causes structural damage, we can repair the damage and make sure the area is cleaned and disinfected.
The flood damage restoration services we provide include the following:
Initial Inspection: Our technicians will start with a full inspection to uncover the scope of the damage and then form a restoration plan based on our inspection.
Advanced Equipment: We use state-of-the-art water extraction and drying equipment to make sure that the water is removed and the affected materials are thoroughly dried.
Thorough Drying: We can effectively extract water and moisture from furnishings, structural elements, and other affected surfaces or materials.
Deodorization: Any musty odors left from the flood water or mold are removed with our deodorization method.
Flood Damage from a Sewage Backup
There is a possibility that if you have standing water in your home or office, there may be some sewage mixed in.  Flooding caused by storms can pick up sewage as it spreads and if there is a sewage backup, the sewage can leak into your home.  You must be careful to avoid contact with sewage water because it contains harmful waste and bacteria that cause infections and illness.  At RestorationMaster, we are trained and equipped to safely remove sewage water and restore the affected area.  We will make sure that everything affected by the sewage water is thoroughly cleaned and disinfected to reduce the risk of negative health effects.
Indoor flooding is a serious issue because it can quickly cause devastating damage so make sure you call our professionals immediately if you experience flooding in Wesley Chapel, FL.  We can remove standing flood water with our advanced equipment and repair and restore the area to its previous condition.
Contact Us
You can call us 24 hours a day at (813) 730-4258 for professional flood damage restoration in the Wesley Chapel, FL area.
---
Related Flood Cleanup Services
Flood Mitigation Company Tampa FL
Flood Restoration Cleaning Company St. Petersburg FL
Emergency Flood Repair Largo FL
Flood Water Removal New Port Richey FL
Basement Flood Restoration Clearwater FL
Flood Recovery Company Palm Harbor FL
Flood Damage Company Brandon FL