A flood is one of the most damaging disasters that can happen in a home or building.  Standing water damages walls, flooring, furniture, and other absorbent objects or building materials which can lead to much more significant problems.  Graystone Restoration provides flood damage cleanup in Palm Harbor, FL to extract flood water from homes and businesses and restore the damaged area.  Our technicians have the training and equipment to remove all flood water and thoroughly dry the affected materials to prevent significant damage or mold growth.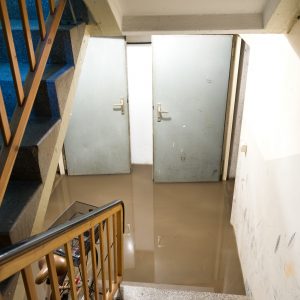 Indoor flooding is a threat to cause intense damage because many building materials, furnishings, and other objects are porous.  Standing water can weaken structural materials and cause warping or discoloration, as well as contribute to mold or mildew growth.  Mold causes even further damage by destroying the surfaces it grows on and increasing the risk of related health effects.  At Graystone Restoration, we use the best water extraction and drying equipment in the business to ensure that your home or building is completely dried.  We will effectively remove the standing water as well as dry and disinfect the area to prevent mold growth and related health issues.
Our flood damage cleanup services include these steps:
Total Evaluation: We start with a full evaluation of your home or building to discover the full extent of the flooding. We then create a restoration plan based on your situation.
Advanced Equipment: Our water extraction and drying equipment is the best in the industry and allows us to remove all excess water and moisture.
Complete Drying: All affected materials including structural elements, furniture, flooring, and even air spaces are dried with our dehumidification and drying equipment.
Odor Removal: Flooding can sometimes leave a musty odor; our deodorization process can eliminate lingering odors.
Flood Damage Caused by Sewage
When you are dealing with significant flooding in your home or building, it is possible that you might have sewage on your hands.  Sewage can get into your home either by mixing with water before it floods your home or from a sewage backup or overflow.  You must be very cautious with sewage because it contains waste and toxins that will spread disease or infection if they are mishandled.  The technicians of Graystone Restoration have the training and experience to remove sewage contaminated water while minimizing the potential health effects.  We will thoroughly clean and sanitize the entire affected area so that it is safe to use again.
Contact Us
Flooding in your home or business is an emergency situation so make sure you call Graystone Restoration if you experience indoor flooding in Palm Harbor, FL.  Our experts will uncover the full extent of the flooding and ensure that all standing water and moisture is removed to prevent structural damage and mold growth.  You can call us any time at (727) 228-7282 for emergency flood damage cleanup.
---
Related Flood Cleanup Services
Flood Damage in St. Petersburg, FL
Flood Damage Cleanup in Tampa, FL
Flood Cleanup Services in Largo, FL
Flood Restoration in New Port Richey, FL
Flood Damage Repair in Wesley Chapel, FL
Flood Damage Restoration in Clearwater, FL
Flood Cleanup Services in Brandon, FL
---
Recent Reviews
---
Review by Trevor Keller
Disaster Restoration
Rating

"Great experience with this company! Nick and the other guys were very professional! Will recommend highly!"
---
Review by Maria Rodriguez
Disaster Restoration
Rating

"Nancy, thank you for giving such a great presentation today. I've alway known your company goes above the rest to make sure the clients are taken care of but now I have a better understanding of each step taken.....Thanks!!!"
---
See All Reviews