A fire can happen at any time and cause devastating damage to your home or commercial building in a matter of minutes. However dangerous and destructive a fire may be though, the majority of the damage is actually caused by the smoke, soot, and other corrosive byproducts from burnt synthetic materials, as well as from the excessive water and residue from the firefighting products.
Even after the flames have already been put out, the harmful particles and emissions will spread throughout your property, affecting areas that were not directly damaged by the fire. Unless properly taken care of, they will continue to etch and tarnish personal belongings and household materials like brass, porcelain, aluminum, etc. until the damage becomes irreversible (which may happen within just a few days).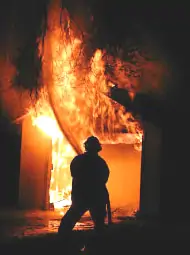 Fire Damage Repair in Palm Harbor, FL
RestorationMaster provides fast and efficient fire damage restoration and cleaning services to homes and businesses in Palm Harbor, FL affected by a fire. Our technicians will respond immediately to your call and will make every effort to salvage your belongings and restore your property after a fire.
It's crucial to begin the cleanup process as soon as possible after a fire in order to mitigate the spread of the damage and effectively restore any affected objects. Our experienced technicians have the specialized equipment and extensive training required to successfully contain the damage and salvage affected household materials and personal items before they become permanently damaged.
We use powerful chemical cleaners and advanced equipment to remove soot and smoke damage from all kind of surfaces, including delicate materials like marble, tile, brass, chrome, aluminum, porcelain, carpeting, and upholstery. Therefore, we can not only restore the good condition of your home or commercial building, but also salvage cherished personal possessions and precious family heirlooms that could have been otherwise lost.
Our fire and smoke damage restoration services include the following steps:
Emergency pre-cleaning
Repair of structural elements and furnishings
Content cleaning
Content pack-out
Wall and ceiling cleaning
Odor removal
If your home or building in Palm Harbor, FL has been affected by a fire, make sure you contact RestorationMaster immediately after the flames are extinguished and everyone is safe. We'll respond quickly to contain the damage and begin the restoration process before any further problems can occur.
Contact Us
Call us at (813) 730-4258 24 hours a day, 7 days a week, for quick and efficient intervention in the event of fire damage emergencies in Palm Harbor, FL.
---
Related Fire Restoration Services
Fire Damage Restoration in St. Petersburg, FL
Fire Damage Repair in Largo, FL
Fire Damage Cleanup in New Port Richey, FL
Fire Damage Restoration in Wesley Chapel, FL
Fire Damage Restoration in Clearwater, FL
Fire Damage Repair Brandon, FL
Fire Damage Restoration in Tampa, FL