Quite often, disasters cause greater damage to the household items and personal belongings within a building than to the building itself. Water, mold, fire, smoke and soot can easily ruin your cherished possessions, destroying items of great practical, monetary, or sentimental value. However, if you act quickly and get immediate help, you may be able to salvage your belongings – all you need to do is call experienced restoration specialists who have the advanced equipment and professional know-how required to reverse the damage before it has become permanent.
RestorationMaster provides quality content cleaning and pack-out services in Palm Harbor, FL to salvage personal property that has been damaged in a disaster. Our technicians have special training and extensive experience in cleaning and restoring all kinds of important or valuable commercial and personal items, family heirlooms, etc. We use the best equipment and cleaning products available in the industry to restore your items in a quick and efficient manner. Whenever possible, we perform all the work on-site. If necessary, we provide pack-out services to have your belongings cleaned and restored at our secure facility.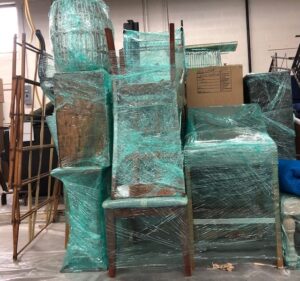 On-site Content Cleaning
Even badly damaged items can be brought back to life with the help of innovative restoration techniques and powerful cleaning products that allow the experts to remove dust, dirt, soot, smoke particles, mold spores, and other similar common contaminants from your damaged possessions. The technicians at RestorationMaster are specially trained to use such advanced restoration methods and equipment and have rich experience in dealing with different types of damages. We can fully repair your items, remove lingering odors (such as smoke and mildew), and restore your treasured belongings to their original condition. What's more, we work with insurance companies to expedite your claims.
We can perform most of our qualified content cleaning and restoration work on-site for greater convenience. However, if your items require thorough cleaning and/or specific treatment, or if the condition of your property does not allow on-site content cleaning, we can pack out your goods and take them to our specialized facilities for complete restoration and storage.
Pack-Out Services
If your property requires reconstruction or large-scale restoration procedures after the disaster, the technicians at RestorationMaster will pack-out your items and take them to our secured facility where they will be fully restored and safely kept until you are ready to have them back. Our technicians will create a detailed inventory of your damaged items (including a precise description of their current condition) and will pack them up with great care. We will provide you (as well as your insurance company) with a copy of the inventory list. Then, your belongings will be transported to our specialized facility for thorough cleaning and complete restoration.  We will keep them safely stored until your home or commercial building has been restored. We will deliver your items back upon your request. Have in mind that it is your responsibility to check them against the inventory list and make sure that all your belongings are returned to you in excellent condition.
The sooner the restoration process begins, the greater the chance to have your damaged belongings brought back to life. So, if the contents of your home or business in Palm Harbor, FL, get damaged in a disaster, contact RestorationMaster without delay. Our phone lines are open 24 hours a day at (813) 730-4258 for quality on-site cleaning and pack-out services.
---
Related Content Cleaning and Pack-Out Services
Content Cleaning and Pack-outs in St. Petersburg, FL
Content Cleaning and Pack-outs in Largo, FL
Content Cleaning and Pack-out Services in New Port Richey, FL
Content Cleaning and Pack-out in Wesley Chapel, FL
Content Cleaning and Pack-out in Clearwater, FL
Content Cleaning and Pack-out in Brandon, FL
Content Cleaning and Pack-out in Tampa, FL