When it comes to natural disasters, floods are among the most dangerous.  When flooding gets into a home or building, it gets absorbed into the building materials which can result in serious structural damage and possibly even mold growth.  Indoor flooding requires immediate action to remove the water before it can penetrate the home or building too deeply.  Graystone Restoration provides flood damage restoration services to help homes and businesses in Brandon, FL that have sustained flood damage.  Our highly trained technicians can extract any amount of flood water with our advanced equipment and we will completely clean and restore the affected area.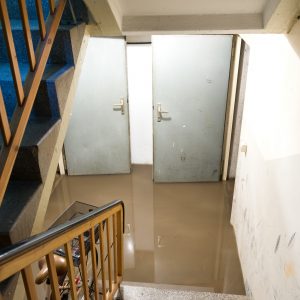 Flood water can be quite destructive once it is inside a home or building.  It quickly penetrates furnishings and porous building materials such as wood, drywall, flooring, and insulation which greatly weakens these structures.  This leads to intense structural damage which can be made even worse if there is mold growth.  Graystone Restoration reacts quickly to flooding emergencies to remove the flood water with our advanced water extraction equipment.  Once the flood water is removed, our technicians will set up our drying equipment to remove any remaining moisture and prevent further damage or mold growth.
Flood Cleanup in Brandon, FL
After you have reached out to Graystone Restoration, we will send a technician on-site to immediately start the flood cleanup process.
Our complete flood damage restoration services consist of these steps:
Thorough Evaluation: Our technicians start with an evaluation of the flooded area to determine the scope of the damage and form a restoration plan based on what we find.
Advanced Equipment: We use effective water extraction and drying equipment to ensure that standing water as well as excess moisture is removed.
Complete Drying: We make sure to extract all moisture out of affected structural elements, furnishings, and other materials to reduce the risk of mold growth and further damage.
Deodorization: If flood water, sewage, or mold leaves a musty odor, we can remove it with our deodorization process.
Flood Damage from Sewage Water
There is a good chance that if you are experiencing extensive indoor flooding, there could be sewage mixed into the water.  It is common for flood water to get mixed up with sewage and a sewage backup or overflow can result in sewage water flooding your home.  Regardless of how the sewage got there, you must be very careful.  The waste and bacteria in sewage water can cause infections and disease and attempting to clean up the water improperly will only increase this risk.  The technicians of Graystone Restoration are properly trained to handle the removal of sewage water and we can effectively clean and disinfect the area to eliminate the risk of disease or infection.
Contact Us
The damage caused by indoor flooding will only get worse until the water is removed which makes it important to get help as soon as possible.  If your home or business in Brandon, FL has experienced indoor flooding, contact Graystone Restoration for complete flood damage restoration services.  We are standing by 24 hours a day at (813) 518-8555 to respond to flood damage emergencies in Brandon, FL.
---
Related Flood Cleanup Services
Flood Damage in St. Petersburg, FL
Flood Damage Cleanup in Tampa, FL
Flood Cleanup Services in Largo, FL
Flood Restoration in New Port Richey, FL
Flood Damage Repair in Wesley Chapel, FL
Flood Damage Restoration in Clearwater, FL
Home Flooding Service in Palm Harbor, FL
---
Recent Reviews
---
Review by Trevor Keller
Disaster Restoration
Rating

"Great experience with this company! Nick and the other guys were very professional! Will recommend highly!"
---
Review by Maria Rodriguez
Disaster Restoration
Rating

"Nancy, thank you for giving such a great presentation today. I've alway known your company goes above the rest to make sure the clients are taken care of but now I have a better understanding of each step taken.....Thanks!!!"
---
See All Reviews