Hoarding is becoming more recognized as a symptom of an anxiety disorder. The Mayo Clinic's website lists several symptoms of hoarding, including a persistent inability to throw things away, letting food or trash pile up to unsanitary levels, and living spaces so cluttered that some areas can't be used. This kind of situation will only worsen over time, so it's important to call Graystone Restoration for their hoarding cleaning services for clients in Brandon, FL. We'll help sort through the items, remove them and sanitize the home, all while keeping the individual in control of the process.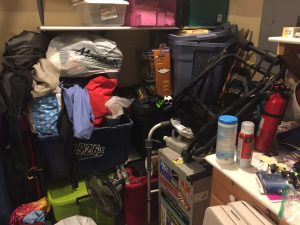 Hoarding is different than collecting because collectors will seek out certain items, display them and care for them. Hoarders typically save items for one or more reasons:
The items will be needed or valuable in the future.
The items have positive emotional memories.
They feel safer surrounded by items.
The items accumulate, attracting dust, insects, rodents, mold, and block areas of the home if allowed to continue. Most hoarders don't realize there is a problem, so it's up to family and friends to help them understand there's a problem and that it's time to call for help. They may be too embarrassed to call themselves.
Graystone Restoration's experts are trained and equipped to clean and restore hoarder's homes. We'll disinfect the home and make it safe to live in again. Our hoarding cleaning process includes:
Saving valuables like jewelry
Taking unwanted items to charities, recycling centers or trash
Helping decide what to keep, donate, recycle or discard
Distributing items to family
Assisting with paperwork from trusts, attorneys, and government agencies
Graystone Restoration Hoarding Cleaning Services
At Graystone Restoration, we believe in emphasizing trust and respect between our technicians and our clients. That's why we put the individual in charge of deciding what happens to items in the home. The three phase approach includes:
Phase 1 – Building a personal connection. We try to get an assessment of the situation before we walk in the home. We work to build a personal connection with the client based on respect and trust. We'll develop a cleaning plan with the client and family, and help find qualified counseling if necessary.
Phase 2 – Forming and implementing a cleaning plan. A plan ensures that all unwanted items are removed from the home. After the items are gone, we'll help reorganize and sanitize the home. Our clients make the final call on what is kept, donated or thrown away.
Phase 3 – Follow up. We help create a cleaning plan to maintain the home after we leave. We'll make a follow up call to check on their progress and see if a return visit is needed. The client is in control of the situation at all times.
If you know someone in Brandon, FL who is struggling with hoarding, don't let them suffer.
Call for Help
Call the professionals at Graystone Restoration at (813) 518-8555, we'll help clean and sanitize the home so it's safe again.
---
Related Hoarding Cleanup Services
Hoarding Cleanup Services for New Port Richey, FL
Hoarding Cleaning Services for Clearwater, FL
Hoarding Cleaning Services for Largo, FL
Hoarding Cleanup Services for Palm Harbor, FL
Hoarding Cleaning Services for St. Petersburg, FL
Hoarding Cleaning Services for Tampa, FL
Hoarding Cleanup Services for Wesley Chapel, FL
---
Recent Reviews
---
Review by Trevor Keller
Disaster Restoration
Rating

"Great experience with this company! Nick and the other guys were very professional! Will recommend highly!"
---
Review by Maria Rodriguez
Disaster Restoration
Rating

"Nancy, thank you for giving such a great presentation today. I've alway known your company goes above the rest to make sure the clients are taken care of but now I have a better understanding of each step taken.....Thanks!!!"
---
See All Reviews