There are millions of people in the U.S. who are affected by hoarding and we have learned much more about hoarding disorder in recent years to provide the best possible help for those affected. Hoarding is a mental disorder that has been discovered to be a symptom of anxiety and the living conditions that result from hoarding behaviors are dangerous and unhealthy for all those within the home. ServiceMaster 24 Hour provides hoarding cleaning services to help those in New Port Richey, FL that struggle with hoarding clean and sanitize their home. Our cleaning services are effective for all cases of hoarding and we take a respectful approach to these projects to establish trust with the affected individual.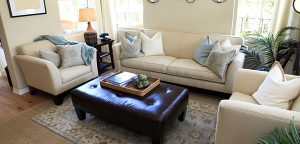 Most individuals that struggle with hoarding develop an inability to throw anything away and end up collecting all types of objects in their home including objects that are normally discarded such as newspapers, food packages, and other trash. The accumulation of these hoarded items eventually creates hazardous living conditions in the home as access throughout the home is severely restricted, the risk of fire is increased, and dangerous substances such as mold and bacteria may grow within the hoard of items which can contribute to a range of negative health effects. It is rare for hoarders to get help themselves as they are usually too embarrassed by the condition of their home which is why it is very important for a friend or family member to help the individual understand the need to clean up their home.
At ServiceMaster 24 Hour, our technicians have received the highest level of training and certification to clean up even the most extreme cases of hoarding with the best equipment and cleaning products of the industry. We will help completely remove unwanted hoarded items as well as clean, sanitize, and reorganize what is left in the home. The following actions are part of our hoarding cleaning services:
Money, jewelry, and other valuable items are salvaged
Unwanted items are properly disposed
Help with decisions regarding what to do with the hoarded items
Items set aside for donation are taken to the non-profit organization of choice
Items set aside for friends and family members are distributed to them
Help with required paperwork from attorneys, trusts, and government agencies
ServiceMaster Hoarding Cleaning Services
ServiceMaster 24 Hour has adopted the new approach to hoarding cleaning that was recently created by ServiceMaster Restore in collaboration with Matt Paxton. This new approach stresses the importance of building feelings of mutual trust and respect with the individual so that they are comfortable letting our technicians into their home to clean. We also give the final decision on whether an object should be recycled, thrown away, donated, or kept to the individual so that they have control over the process. This hoarding cleaning approach is carried out in 3 phases:
Phase 1: Building Mutual Trust and Respect
We try to assess the full scope of the hoarding problem before stepping into the home.
We establish mutual feelings of trust and respect with the individual to help create a personal connection.
With the help of the individual and their family, we create an appropriate cleaning plan. At this stage we may refer the individual to a professional counselor if it appears that further help is needed.
Phase 2: Creating and Implementing the Cleaning Plan
We create a cleaning plan with the individual and their family that effectively deals with the situation.
Once the hoarded items are removed, we will reorganize, clean, and disinfect what is left.
The final say on what to do with each object is up to the individual so that they maintain an element of control.
Phase 3: Follow Up
After our cleaning is complete, we create a cleaning plan to help the individual and their family maintain their home.
We do a phone follow up to see if the cleaning plan is being followed and we will return to the home if more assistance is needed.
The individual is always in control of what happens to the hoarded items.
Hoarding behaviors lead to very dangerous conditions that could jeopardize the health and safety of everyone within the home so it is important to reach out to someone you know that may be hoarding. ServiceMaster 24 Hour can effectively clean up the homes of hoarders in New Port Richey, FL with our hoarding cleaning services and we approach each project with compassion and respect for the affected individual. You can call us anytime 24 hours a day at (727) 228-7282 to learn more about our hoarding cleaning services.
June 7, 2019
I am extremely happy with ServiceMaster. The came quickly to help restore my home that was damaged from a leaking hot water pipe. Shaun was here to assess quickly and create a plan. The Jose and Devario were here quickly to implement it. Jose and Devario came every day on water in my walls. They were prompt and courteous. If I ever need restoration services I will call Servicemaster and request the same technicians.
May 11, 2019
I like how professional both Joe and Manny were. They both did an outstanding job with my flooring issues, but more they went out of their way to help me adjust to everything. They both made sure that I was comfortable and had safe access through the house, as my furniture had to be moved out of my bedroom and into my living room. Having a small apartment meant I was limited to a small space during the restoration process. They set up my tv so I could watch while camped out in the living room and then again in my bedroom when I could move back in. They didn't have to do that but this was an example of how they extended such quality consideration for me. I also like how closely your company monitors the progress on a daily basis. I feel that by having such fast attention to my disaster, your company saved my wood flooring and certainly removed the water from my carpet, without the potential for mold to set in. Great work!