Hoarding is a complex issue that can have dangerous consequences for the affected individual as well as their family members living in the same home.  It is now understood as a mental disorder with underlying anxiety issues that cause the affected individual to have a difficult time parting with any type of objects they have collected in their home.  As the collection of hoarded items grows bigger, the home becomes more cluttered which makes it hazardous to walk through and allows mold and bacteria to form which can lead to negative health effects.  Graystone Restoration provides hoarding cleaning services to help clean out and restore the homes of hoarders in Clearwater, FL and return them to a safe living condition.  Our hoarding cleaning approach involves building a personal relationship with the affected individual to earn their trust and keeping them involved in the process.
Hoarding and Hoarder Cleanup Process
The main symptom of hoarding is the inability to throw anything away which is caused by the underlying anxiety associated with hoarding disorder.  This causes those affected to let items such as food containers, newspapers, large objects such as appliances, broken objects, and sometimes animals build up in their home.  As a result, the home can become dangerously cluttered which increases the risk of injury, fires, and mold or bacteria growth that can have an effect on the health of those in the home.  Most people that struggle with hoarding issues do not take it upon themselves to reach out for help and need a trusted friend or family member to intervene and help them begin the cleaning process.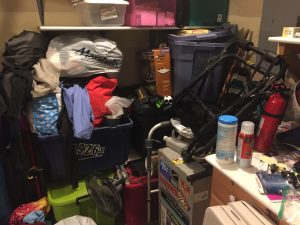 The condition of a hoarder's home varies from case to case and the technicians of Graystone Restoration are trained and equipped to handle cleaning up even the most extreme cases of hoarding.  We help remove all unwanted items and debris as well as fully clean and disinfect the home using the best cleaning products and equipment available.  The hoarding cleanup we provide consists of the following steps:
Saving valuable items including money and jewelry
Removal and disposal of unwanted items
Assistance in deciding what to do with hoarded objects
Donated items are taken to the non-profit organization of choice
Certain kept items are delivered to friends and family members
Help with necessary paperwork from attorneys, trusts, and government agencies
Hoarding Cleaning Approach from Graystone Restoration
A new hoarding approach was recently developed that involves building a personal relationship with the affected individual and making them an important participant in the process.  We start by earning the individual's trust by establishing mutual feelings of respect and then create the cleaning plan with the help of the individual and their family.  This hoarding cleaning approach is divided into the following three phases:
Phase 1: Building a Personal Connection
We try to determine the condition of the home before actually entering.
We work with the individual to establish a personal connection based on trust and respect.
We start to form a cleaning plan and if it is decided that extra help is necessary, we can refer the individual and their family to a counseling professional.
Phase 2: Creating and Following the Cleaning Plan
The cleaning plan is created with the individual and their family.
All unwanted items and debris are removed and the home is cleaned and rearranged.
The final decision on what to do with the hoarded objects is left to the individual.
Phase 3: Follow Up
After the cleaning is complete, we help create a plan to help the individual maintain their home.
We do phone call follow ups to see that the individual is maintaining their home and we will return if more cleaning is needed.
We make sure the individual has an element of control throughout the entire process.
Hoarding is a complicated and potentially dangerous disorder which makes it important to reach out to those affected and help them begin the cleaning process.  If you know someone in Clearwater, FL that has issues with hoarding, reach out to them and call Graystone Restoration for hoarding cleaning services.
Call for Help
You can reach us 24 hours a day at (727) 228-7282 for more information about our hoarding cleaning services.
---
Related Hoarding Cleanup Services
Hoarding Cleaning Services for Brandon, FL
Hoarding Cleaning Services for New Port Richey, FL
Hoarding Cleaning Services for Largo, FL
Hoarding Cleaning Services for Palm Harbor, FL
Hoarding Cleaning Services for St. Petersburg, FL
Hoarding Cleaning Services for Tampa, FL
Hoarding Cleaning Services for Wesley Chapel, FL
---
Recent Reviews
---
Review by Trevor Keller
Disaster Restoration
Rating

"Great experience with this company! Nick and the other guys were very professional! Will recommend highly!"
---
Review by Maria Rodriguez
Disaster Restoration
Rating

"Nancy, thank you for giving such a great presentation today. I've alway known your company goes above the rest to make sure the clients are taken care of but now I have a better understanding of each step taken.....Thanks!!!"
---
See All Reviews