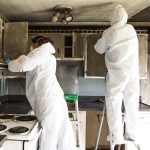 There's nothing that can prepare you for finding a trauma scene at your home or business. It's tempting to begin cleaning up right away and removing the upsetting sights, but that's the worst thing you can do. Trauma scenes are often crime scenes, and disturbing anything can jeopardize the investigation. Biohazards like tissue, blood and other bodily fluids can spread disease and infection without proper handling and protective gear, and they can't be thrown away in regular trash. The professionals at ServiceMaster 24 Hour provide comprehensive trauma scene and biohazard cleaning services for residential and commercial clients in Clearwater, FL.
Commercially available cleaning products and equipment can't remove all biohazard materials, and most people wouldn't think of the importance of sanitizing the area. The average household doesn't have protective equipment to wear during cleanup, and just the thought of doing it may be more than many people can bear. That's why it's so important to call a professional cleanup company like ServiceMaster 24 Hour. We have the equipment, products and training to safely and effectively remove all traces of biohazards, and clean and sanitize trauma scenes in Clearwater, FL so it's safe for human occupancy. We work in full cooperation with law enforcement and complete the project as quickly and discreetly as possible. All biohazard materials are loaded into approved containers for transportation to a licensed facility for legal disposal.
At ServiceMaster 24 Hour, we remember that these projects are different from other restoration jobs, and treat our clients with compassion. If necessary, we can connect friends and family with trained professional counselors who can help them come to terms with the event.
If you encounter a trauma scene at your home or business in Clearwater, FL, leave the area immediately and call law enforcement. After the area has been secured, call ServiceMaster 24 Hour day or night, 7 days a week, at (727) 228-7282. This would be an excellent task to delegate to someone who asks, "what can I do for you?" We arrive quickly to begin the physical restoration process while you take care of things that only you can manage.
---
Related Services
Hazardous Cleanup Tampa FL
Crime Scene Clean up St. Petersburg FL
Trauma Scene Cleanup Largo FL
Death Scene Cleanup New Port Richey FL
Trauma Scene Cleaning Wesley Chapel FL
Hazardous Waste Clean Up Palm Harbor FL
Crime Cleaners Brandon FL
May 11, 2019
I like how professional both Joe and Manny were. They both did an outstanding job with my flooring issues, but more they went out of their way to help me adjust to everything. They both made sure that I was comfortable and had safe access through the house, as my furniture had to be moved out of my bedroom and into my living room. Having a small apartment meant I was limited to a small space during the restoration process. They set up my tv so I could watch while camped out in the living room and then again in my bedroom when I could move back in. They didn't have to do that but this was an example of how they extended such quality consideration for me. I also like how closely your company monitors the progress on a daily basis. I feel that by having such fast attention to my disaster, your company saved my wood flooring and certainly removed the water from my carpet, without the potential for mold to set in. Great work!