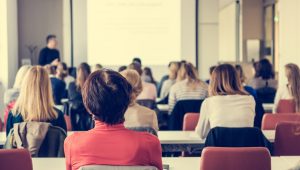 When a home or building sustains significant damage from a natural disaster, homeowners normally turn to restoration service providers and insurance agents to help remedy the damage and take care of the costs.  In order for the customer to receive effective service, the insurance agents and adjusters must have thorough knowledge of the methods and equipment used by restoration professionals.  At Graystone Restoration, we work with insurance agents in the Clearwater, FL area and offer CE classes to educate insurance agents and adjusters on our latest methods for each of our restoration services.  Insurance agents and adjusters can attend these classes at no charge and earn CE credits required by the State of Florida.
Graystone Restoration CE Classes
Our CE classes are open to all insurance agents and adjusters in Clearwater, FL and the surrounding areas and they are given at our main office in Tampa, FL.  We also provide Lunch & Learn sessions in which we will come to your office and give the class in one hour increments.  Lunch is provided for our Lunch & Learns but you must have at least 6 confirmed attendees for this to take place.  Our classes that are taught at our Tampa, FL office are 3-5 hours depending on the class and also include complimentary lunch and refreshments.
The CE classes that we offer cover many of our services including smoke and odor mitigation, water damage mitigation, flood insurance, mold remediation, mitigating personal property pack-outs, ethics and law, and furniture damage and restoration.  Our trained and experienced technicians teach each of our classes and the credits count towards required state approved CE credits.  It is important to register ahead of time for our CE classes to reserve your spot.
Contact Us
Call Graystone Restoration at (727) 228-7282 to sign up for our Continuing Education classes on disaster restoration.
---
Related Continuing Education (CE) Classes
Continuing Education (CE) Classes in St. Petersburg, FL
Continuing Education (CE) Classes in Brandon, FL
Continuing Education (CE) Classes in New Port Richey, FL
Continuing Education (CE) Classes in Palm Harbor, FL
Continuing Education (CE) Classes in Wesley Chapel, FL
Continuing Education (CE) Classes in Tampa, FL
---
Recent Reviews
---
Review by Trevor Keller
Disaster Restoration
Rating

"Great experience with this company! Nick and the other guys were very professional! Will recommend highly!"
---
Review by Maria Rodriguez
Disaster Restoration
Rating

"Nancy, thank you for giving such a great presentation today. I've alway known your company goes above the rest to make sure the clients are taken care of but now I have a better understanding of each step taken.....Thanks!!!"
---
See All Reviews