2017 was such an amazing year for all of our Complimentary CE classes! We can't thank everyone enough for joining us throughout the year. A special thank you goes out to our AMAZING instructors, ServiceMasters very own Tom Pitt and also Tony Becerra who teaches our annual Law & Ethics course. We also couldn't achieve the success we've had without our partners: Enterprise, ServiceKing Collision, and Safelite Autoglass. We are currently working on a class schedule for 2018 and are so excited for what next year will bring! 2017 classes are finished for the year, but keep in contact for next year's schedule!



ServiceMaster 24 Hour — St. Petersburg, FL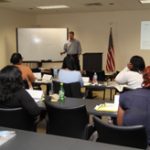 ServiceMaster 24 Hour has had a professional relationship with many of the insurance agents and adjusters in the St. Petersburg, FL area to better assist our clients with their insurance claims. This partnership works most effectively when the insurance agents and adjusters have an intricate understanding of the cleaning equipment and methods we use to restore their clients' homes and businesses. ServiceMaster 24 Hour provides CE classes for the insurance agents and adjusters in St. Petersburg, FL that go over the details of each of the restoration services we provide. These classes keep insurance agents informed on our restoration methods and they count as state required CE credits.
ServiceMaster CE Classes
The CE classes we offer are given at our office in Tampa, FL and we can also come to your office with what we call our Lunch & Learn classes. Our Lunch & Learn classes are broken up into one hour increments and lunch is provided, but you must have at least 6 attendees for a Lunch & Learn. For CE classes at our Tampa, FL office, we provide a complimentary lunch and refreshments and these classes can last anywhere from 3-5 hours depending on the topic.
Our CE classes cover a variety of topics related to our restoration services such as mold remediation, water damage mitigation, smoke and odor mitigation, mitigating personal property pack-out, ethics and law, furniture damage and restoration, and flood insurance among others. Each of our classes are taught by our technicians who are highly trained and experienced with our services, and insurance agents can earn CE credits required by the State of Florida. There is no charge to attend these classes but you must register beforehand to secure your spot because some classes fill up quickly.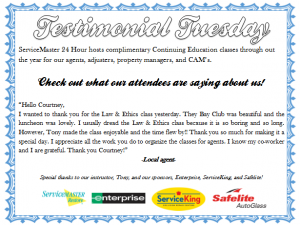 ServiceMaster 24 Hour provides CE classes to ensure that our insurance partners are well informed and to help them earn CE credit hours that are required by the state. If you are interested in attending any of our CE classes, check out our CE class schedule on our main website and register online to reserve your seat. You can also give us a call at (727) 228-7282 for more information.
---
See All Reviews