2017 was such an amazing year for all of our Complimentary CE classes! We can't thank everyone enough for joining us throughout the year. A special thank you goes out to our AMAZING instructors, ServiceMasters very own Tom Pitt and also Tony Becerra who teaches our annual Law & Ethics course. We also couldn't achieve the success we've had without our partners: Enterprise, ServiceKing Collision, and Safelite Autoglass. We are currently working on a class schedule for 2018 and are so excited for what next year will bring! 2017 classes are finished for the year, but keep in contact for next year's schedule!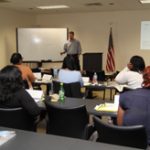 ServiceMaster 24 Hour has established professional relationships with the insurance agents and adjusters in the Wesley Chapel, FL area to assist with filing claims and working out pricing for our clients. We understand that in order for this relationship to work, the insurance agents and adjusters that we work with must fully understand the process we use for our disaster restoration services. ServiceMaster 24 Hour provides CE classes for insurance agents and adjusters in Wesley Chapel, FL that cover the processes involved with each of our disaster restoration services. The goal of these classes is to keep insurance agents updated on the latest restoration processes and methods for more accurate claims and pricing services.
ServiceMaster CE Classes
Our CE classes are offered at our Tampa, FL location and we also provide Lunch & Learn classes for insurance agents that would like us to teach the class at their office. There must be at least 6 people signed up to attend for a Lunch & Learn and these classes are taught in one hour increments with lunch included. The CE classes at our Tampa location typically last between 3 and 5 hours depending on the class and they also include complimentary lunch and refreshments.
The CE class topics we provide include water damage mitigation, mold remediation, smoke and odor mitigation, ethics and law, mitigating personal property pack-out, furniture damage and restoration, and flood insurance among others. Our trained and experienced technicians as well as our trusted partners teach these classes and insurance agents and adjusters can earn state approved CE credits for attending. These classes are free to attend but prior registration is required to secure a spot in the class.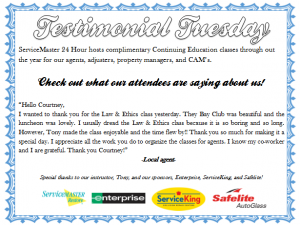 Our CE classes are a great way for us to keep our partners in the insurance industry updated and informed on the processes of our restoration services as well as for insurance agents and adjusters to earn required state approved CE credits. These classes will help insurance agents provide more accurate and informed claims services to help their clients following a disaster. Our CE class schedule can be seen on our main website where you can also register for classes. You can get more information about our CE classes for insurance agents in the Wesley Chapel, FL area by calling us at 813-518-8555.
---
See All Reviews