Those who have homes and businesses in Brandon, FL are aware of the severity of some storms that hit the area. While weather reports can help prepare you for an upcoming storm, there is only so much you can do to protect your property from damage. There are times when trees come crashing down on the roof or some other part of your property gets impacted and damaged in the fury of the storm.
Fixing this damage is no easy feat and the one way to ensure the job is handled in an expert manner is to hire Graystone Restoration for water cleanup and storm damage restoration services in Brandon, FL. We have the expertise and knowledge as well as the resources to provide prompt, efficient, and customized services to our clients.
Our Storm Damage Repair Services
We have helped many customers in Brandon, FL get their properties back in shape and our company is known for its reliability and expertise.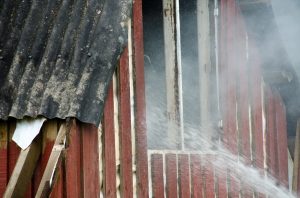 We provide comprehensive storm damage restoration solutions such as:
24/7 Emergency response
Tarping of roofs
Emergency board-up
Water cleanup and dehumidification
Debris removal
Structural evaluation
Temporary roof repairs
Tree removal from your landscaping
Storm Damage Restoration Process
Storm damage restoration is a very specialized service and every job must be handled with care. Storm hits can impact the structure of your home or commercial establishment and affect its integrity.
This is why we follow a very detailed approach in our work:
Our experts will first inspect your entire property and ensure it is safe. The detailed assessment report will be sent out to your insurance company.
Our personnel will then meticulously start tackling all the affected areas.
The roof is one of the features that would have to be fixed before anything else. If that isn't possible right away due to the weather conditions, we can first install tarps on the roof as a temporary measure.
The emergency board-up services help protect your home from intruders as well as inclement weather.
Once these basic things are in place, the water damage restoration, content pack up and cleaning, and other tasks are carried out very methodically.
Detailed plans will be provided for further repairs and restoration
Contact Us
You cannot wait to deal with storm damage to your home or business because the damage can become worse.  You must call Graystone Restoration right away to secure your home or building and start the restoration process.  We are available 24 hours a day at (813) 518-8555 for emergency storm damage restoration in Brandon, FL.
---
Related Storm Damage Repair Services
Storm Damage Restoration St. Petersburg, FL
Storm Damage Repair Largo, FL
Storm Damage Restoration New Port Richey, FL
Storm Damage Contractors Wesley Chapel, FL
Storm Damage Restoration Clearwater, FL
Storm Damage Repair in Palm Harbor, FL
Storm Damage Repair in Tampa, FL
---
Recent Reviews
---
Review by Trevor Keller
Disaster Restoration
Rating

"Great experience with this company! Nick and the other guys were very professional! Will recommend highly!"
---
Review by Maria Rodriguez
Disaster Restoration
Rating

"Nancy, thank you for giving such a great presentation today. I've alway known your company goes above the rest to make sure the clients are taken care of but now I have a better understanding of each step taken.....Thanks!!!"
---
See All Reviews