5 Ways To Prevent Water Damage In The Fall
Staying dry in the fall is just as important as staying dry in the spring. When fall comes around, you want to prepare your house from potential water damages. Follow these tips to protect your home!
Leaves and Gutters
With fall comes the drop of leaves, which in turn clogs gutters and downspouts. When heavy rainfall takes place, wet leaves and debris can plug downspouts and lead to overflow in your gutters that can pour into soffits, basement window wells, penetrate siding, and wall cavities. Once that occurs you can experience indoor water damage and mold growth.
Roof Inspections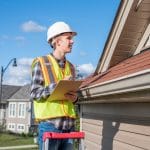 With high winds and low temperatures, the risk of tree inflicted damage to your roof is more likely. Be sure to properly evaluate the condition of your roof. Any missing shingles or dips on the roof or seeing stains appear on your ceilings are all signs of water damage in your home.
Clear Debris
There are many types of basement doors that have a form of French drain installed to make sure water is routed down and away from the door. When rainfall is heavy, it can overwhelm a slow or plugged French drain. If you happen to have this style of door, be sure to clear the debris from the French drains.
Sprinkler System
Although the winter isn't here yet, this is the perfect time to prepare your sprinkler system before the freezing weather starts to kick in. Be sure to look at your manufacturer's procedure to winterize your underground sprinklers. Should you hold off on this process and a rupture were to occur due to freezing in the main line could affect the house foundation and cause basement flooding.
Disconnect Your Garden Hose
The hose bib on the outside of your home is prone to freeze damage if you leave your garden hose connected to it. Since the weather is about to drop, you're most likely done watering the lawn for the year, so it's best to just disconnect it and install an insulated cover to protect it from freezing once winter time comes around.