Se Habla Español
Across the nation, water and flood damage is a major problem for residential and commercial property owners alike. At ServiceMaster All Care Restoration, we provide state-of-the-art water damage restoration services to those in need of assistance in Mesa, AZ. Our technicians are trained and certified to address all types of water damage, regardless of the scale involved. If your property has been damaged due to flooding, a major storm, a burst pipe, or something similar, we will respond rapidly to restore your building and its contents back to their original condition. We remain available 24/7 in order to ensure a speedy response.
More on Water Damage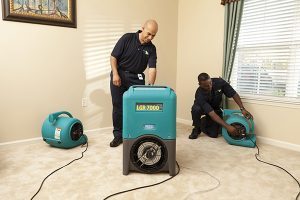 Excess water and moisture can become major problems in a hurry. This is largely because of the porous nature of common building materials and belongings (such as wood, insulation, drywall, fabrics, etc.). When left unaddressed, affected areas can become permanently discolored and/or damaged. This can result in unstable building conditions, tarnished belongings, and even mold growth. Addressing the problem swiftly is the best way to limit the extent of the damage and mitigate future risks.
Comprehensive Restoration Services
At ServiceMaster All Care Restoration, we offer the services of IICRC certified technicians with years of disaster restoration experience. We have truly seen it all when it comes to water damage and will apply this expertise to your unique situation. No matter the cause or scale of the water damage, we will return your property to its original condition. When you choose to take advantage of our services, you can expect the following:
An initial inspection to gain a better understanding of the levels of damage incurred, and to develop an appropriate restoration plan.
The location and repair of the source of excess water and moisture.
The extraction of all excess water through the use of professional-grade equipment and methodologies (for your safety, it is important that you do not attempt to remove standing water with a standard vacuum).
An evaluation of building materials, furnishings, carpeting, walls, insulation, and other important elements.
Deodorization services, and an anti-microbial application to prevent mold growth.
The restoration of damaged materials and belongings.
Drying services with professional-grade dehumidification equipment and air movers.
Assistance with insurance claims.
Experiencing water damage on your property is frustrating and nerve-racking. We completely understand this at ServiceMaster All Care Restoration, which is why we do everything in our power to provide you with greater peace of mind. Our specialists will always act with professionalism, and work in a diligent and effective manner. To learn more about our water damage restoration services, or to schedule an appointment, simply contact our representatives at (480) 717-3030. We are available 24/7 in the case of emergencies, and are proud to assist those in need in Mesa, AZ.
---
August 2, 2020
Christopher Zastrow
Surprise, AZ
See All Reviews