Se habla Español
We have all seen or heard of reports involving major accidents and crimes that result in serious injuries and death. While they rarely occur on the property of somebody that you know, let alone your own property, it is important to know what to do if they do. At ServiceMaster All Care Restoration, we assist property owners in Mesa, AZ, through this process with our trauma and crime scene cleaning services. We coordinate our work with law enforcement officials and EMTs if need be and remove dangerous biohazard materials from your property. At the end of the day, we want to return your property to normal in a swift, effective, and professional manner. We will always respect your privacy, as we understand the implications of such events.
Law Enforcement and EMTs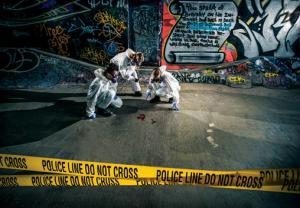 It is important to note that law enforcement officials and EMTs are not trained or certified to remove dangerous biohazard materials (such as blood and bodily tissues) from your property. This is why we work with them throughout the recovery process. We make sure that we do not contaminate any crime scenes and we do what we can to get the cleanup process completed swiftly.
Our Professionals
Our technicians have assisted property owners through a variety of disastrous situations over the years and we will leverage this experience to get you through the restoration process as painlessly as possible. Your safety is of the utmost importance, which is why we go to great lengths to ensure that dangerous biohazard materials are handled and disposed of properly. Our specialists are trained to handle harmful bacteria and toxins in a manner that prevents the spread of infections and diseases. We only dispose of these substances at licensed disposal facilities. We also utilize personal protective equipment (PPE), as well as advanced cleaning equipment and solutions to get the job done safely.
Our Trauma and Crime Scene Cleaning Services
To provide you with greater peace of mind, we offer cleaning, decontamination, and deodorization services to eliminate any lingering elements. In full, you can expect the following when you choose to utilize our expertise:
The removal and proper disposal of dangerous biohazard materials
Complete decontamination and sanitization services
Odor removal services to ensure that you are not reminded of the event in the future through residual odors
Continuous monitoring throughout the restoration process to ensure a swift and effective result
Assistance when it comes to working with your insurance provider
Family assistance and support if need be (we have access to professional counselors who can ease you through a tragic loss)
The utmost professionalism and respect throughout the recovery process
To utilize our trauma and crime scene cleaning services, contact our ServiceMaster All Care Restoration representatives at (480) 717-3030. We are available 24 hours a day to take your call and are proud to service property owners in the Mesa, AZ, community.
---
August 2, 2020
Christopher Zastrow
Surprise, AZ
See All Reviews