Se habla Español
At ServiceMaster All Care Restoration, we take the prospect of mold growth very seriously. Mold can grow and spread with relative ease and cause a number of complications for anybody onsite. It can feed off of structural materials and the surfaces of precious belongings, and even result in health problems for those exposed. Through our mold remediation services, we tackle all aspects of mold growth to return your property and belongings back to their original condition. We offer these services to residential and commercial property owners in Mesa, AZ.
Mold Growth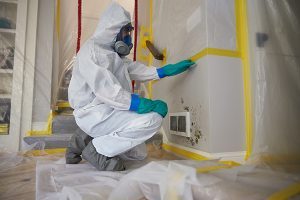 All it takes for mold to grow is an area with excess moisture and an organic food source. Within buildings, this food source is often wood, drywall, or other building surfaces that naturally contain cellulose. When mold grows on these surfaces, structural damage can take place, and belongings can be ruined. In many cases, the mold will spread to various hard-to-reach locations, such as behind walls with pipes, beneath sinks, and behind refrigerators. This is because these places often harbor excess water and moisture.
If left unaddressed or handled improperly, mold will continually release its spores and spread to other locations in your building. This will result in additional damage and health complications for those exposed. Allergies, respiratory problems, and even asthma attacks can all be a result of exposure to mold.
Eliminating Mold
At ServiceMaster All Care Restoration, we will systematically remove all traces of mold from your property and restore affected areas and belongings. We do this by taking advantage of state-of-the-art equipment, sanitization solutions, and restoration methodologies. Our technicians are IICRC certified, which means they are specifically trained and experienced in mold remediation and property restoration. To learn more about what to expect from our mold removal process, please continue reading below:
Identification of all affected areas
The development of an appropriate mold remediation plan
Containment of affected areas to prevent the mold from spreading as we work
Comprehensive mold removal procedures
Restoration and sanitization of affected surfaces
The location and repair of the original source of excess moisture
Sealing services to prevent mold from returning in the future
Even if you only suspect that mold is growing on your property, we encourage you to give us a call. As we mentioned above, mold has a habit of growing in hidden places. Through our expertise and advanced mold-locating equipment, we will determine all sources of mold growth on your property.
To learn more, or to schedule an appointment, contact our ServiceMaster All Care Restoration representatives at (480) 717-3030. We proudly provide our comprehensive mold remediation services to residential and commercial property owners in Mesa, AZ. Our goal is to restore both your property and peace of mind.
---
August 2, 2020
Christopher Zastrow
Surprise, AZ
See All Reviews