Storms, fires, and floods can cause extensive damage to warehouses, retail stores, office buildings and other similar commercial structures in Mesa, AZ. When this happens, buildings can face significant damage, and your content and equipment can be ruined as well.
ServiceMaster All Care Restoration provides commercial large loss services to help businesses recover from damage — no matter how much damage there is. We are devoted to helping businesses get back up and running by restoring your building and damaged content.
Flood and Fire Damage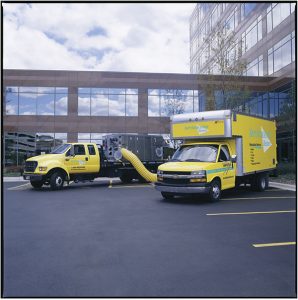 Generally, we work on large-scale water damage and damage caused by fire, smoke, and soot. These two situations can leave buildings structurally unstable and permanently damage content inside of the building. Our technicians will limit the amount of damage your business suffers by immediately responding to your call.
Commercial Flood Damage Restoration
The materials used to build your property, such as drywall and wood, are usually ones that have a porous quality. This allows them to absorb water and moisture, making floodwater very dangerous. The building materials will continue to absorb this water, spreading the water damage throughout your property.
We employ well-trained technicians who can find the water source and repair the problem.
Afterwards, we will remove excess water and moisture by utilizing our advanced water extraction and drying equipment. When that's complete, we can continue with the rest of the restoration process.
Commercial Fire Damage Restoration
Obviously, fires are a huge threat, causing extensive damage to properties and any belongings inside. Despite that, the airborne nature and corrosive qualities of smoke and soot make the damage they cause the most harmful.
We understand this, which is precisely why we conduct emergency pre-cleaning services using chemical cleaners and specialized equipment. This will prevent any corrosion, etching, and discoloration that the smoke and soot cause from becoming permanent. After the emergency pre-cleaning, we move on to restoring your building and any damaged belongings.
Complete Commercial Restoration
It doesn't matter what kind of damage your business has suffered. We, at ServiceMaster All Care Restoration, are available to respond to any emergencies on a 24/7 basis. We start by doing initial inspections to determine the amount of damage and what caused it. Following that, we perform any necessary emergency pre-cleaning, preventing permanent damage.
Our technicians will get rid of any soot, water, and other hazardous substances from affected building materials and damaged content before restoring them. We will restore important documents, personal belongings, your building, furnishings, operating equipment, and valuable electronics among other objects and materials.
Our goal is to effectively and efficiently restore your commercial property to its original condition.
We are committed to helping Mesa, AZ's commercial property owners recover in the aftermath of a disaster.
To contact us for the commercial large loss services that we provide, call (480) 717-3030.